"Vulnerability is true strength"
Loss propels Thomas family to combat suicide epidemic in Black youth
Since graduating from Coppell High School in 2014, Solomon Thomas has made an undeniable name for himself. 
Drafted No. 3 overall in 2017 by the San Francisco 49ers and signing with the New York Jets last month following a season with the Las Vegas Raiders, Solomon returned to his hometown on Sunday to discuss sports, Blackness, mental health and his family's foundation, The Defensive Line.
Solomon spoke alongside his father, Chris Thomas, in the Coppell Arts Center's Main Hall last night as the second event in the arts center's Front & Center speaker series. This year's series is centered around racial justice and featured chef Carla Hall on March 20.
"[Solomon] is a standout kid who climbed his way through the ranks and put himself in a position to not only take care of himself, but also take care of his family," Coppell Arts Center marketing and ticketing coordinator Trevon McWilliams said. "If you look at Coppell, this is a very family-oriented town. On top of that, you have a guy like Solomon Thomas who's using his platform to not only better himself, but also better the community he's involved in."
The presentation began with an overview of Solomon's life in Coppell, during which he recounted his time playing for the Coppell Middle School North's basketball team and CHS football team. He also spoke about growing up Black in Texas and the racism he endured throughout high school.
"It got to a point where you face subtle racist comments, subtle micro-aggressions, and when you're in high school, you let stuff go," Solomon said. "You let it go, but it still stings. When I was in college and I looked back, I realized I hid my Blackness in Coppell."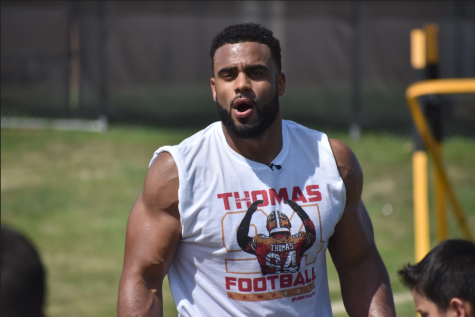 As a junior at CHS, Solomon grieved the loss of his close friend and teammate, Jacob Logan, who drowned in 2012 at Possum Kingdom Lake in the middle of football season. Logan's passing brought Solomon to confront his emotions and be honest about his mental health for the first time.
"As men in this world, we're taught not to show our emotions, not to hug each other, not to cry," Solomon said. "But those are the things that Jacob did and men in my group did. We loved each other. A group of men in high school, telling each other they loved each other, that's rare." 
In 2018, Solomon grieved again; this time, for his sister, Ella Thomas, who committed suicide. Ella's death opened up the Thomases' eyes to the extent of mental health struggles, and they attended workshops and sessions to educate themselves further on suicide warning signs.
Solomon opened up about dealing with depression following his sister's death and how therapy helped him. He encourages everyone to schedule time to care for their own mental health and be vigilant when it comes to their loved ones.
"Therapy saved my life," Solomon said. "As a man, I wasn't taught how to be angry, I wasn't taught how to cry, I wasn't taught how to feel grief. Whatever I was going through, I suppressed everything. Therapy taught me how to sort through all my emotions."
Though best known for his athletic accomplishments, Solomon's inner drive comes from his work for The Defensive Line foundation, which he founded with Chris and his mother Martha Thomas after Ella's death. The foundation focuses on suicide prevention and mental health awareness for young people of color, a demographic that receives less targeted resources than its white counterpart.
Soar Music Group founder Dreyfus Lindsey was present at the event, supporting Solomon and Chris as a business partner. Lindsey's record label is partnering with The Defensive Line foundation to address mental health through music.
"If you're not a part of the [Black] community, you don't really know that [suicide] happens a lot, because it's not talked about a lot," Soar Music Group founder Dreyfus Lindsey said. "What they are doing to bring awareness about this epidemic is the most important piece of this whole thing. Obviously, The Defensive Line wants to expand into every culture and community, but it's very important because [mental health] is not talked about in the Black community." 
The remainder of the discussion centered around Solomon's journey through his college football career at Stanford University and being drafted to the NFL. Solomon played for the San Francisco 49rs from 2017-2020, the Las Vegas Raiders in 2021 and is the current defensive lineman for the New York Jets.
The mounting pressure at each game and draft affected Solomon's nerves to the point where he was diagnosed with anxiety.
"I've always suffered from performance anxiety," Solomon said. "Before every game, I'm on the verge of throwing up. I just thought I had pre-game jitters, but I look back and it's like no, I was severely anxious. I just thought it was normal. Now I've learned and I have a sports mental coach. We talk about being present and it helps me stay grounded through it all."
The event closed with a 10-minute audience Q&A session, during which audience members expressed their gratitude for the Thomases' openness about mental health struggles and asked questions. Solomon's answers highlighted the growth he has experienced over the past four years in the wake of his sister's passing.
"Vulnerability is true strength," Solomon said. "When I told people I went through a suicidal state after Ella's death, that's when I felt myself grow. I felt myself bursting out of my skin into a new person."