CHS '14 alum to play in Super Bowl LIV with defensive powerhouse 49ers
Coppell High School 2014 graduate and San Francisco 49ers defensive end Solomon Thomas will run onto the turf of a rowdy Hard Rock Stadium with indescribable emotions and millions gazed upon him when he takes the field with the 49ers against the Kansas City Chiefs for Super Bowl LIV in Miami on Sunday at 5:30 p.m.. 
Thomas has been a dominant figure throughout his athletic journey, leading to multiple accolades and a football career in the NFL. 
Thomas, one of two Coppell alumni to play in the NFL and the first to play in a Super Bowl per Pro Football Reference, Current Coppell players will be watching Thomas fulfil their fantasy of playing in the Super Bowl.. 
Thomas's performance in his senior year at Coppell with 78 tackles and 12.5 sacks earned him a USA Today High School All-American (2013) title and put him as the third best prospect coming out of Texas and the 26th best prospect in the country in the 2014 recruiting class per 247sports. Thomas would later sign with  Stanford University and go on to win multiple accolades, including a First Team All-Pac-12 and the Morris Trophy in 2016.
Thomas's successful high school and collegiate football journey, driven by a burning passion for football, led him to be chosen with the third overall pick in the 2017 NFL Draft by the 49ers.
Throughout his high school years, Thomas was always the hardest worker, per Coppell football coach Mike Dewitt. His constant competitiveness throughout not only training and time on the field but also in the classroom and in his personal life made him shine. Thomas's constant desire to be the best at everything is what drove him to excellence in each and every activity he participated in.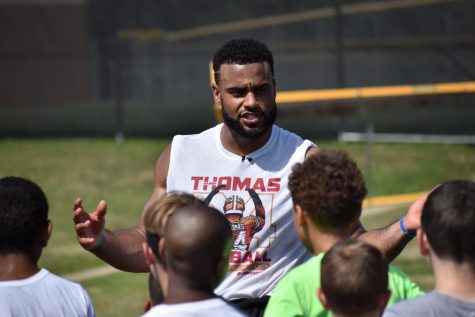 "[Thomas] is just never complacent, when he puts pads on and gets on the football field, he is a beast," Dewitt said. "Whatever he did, he tried to win and he was gonna compete, whether that was track or basketball or football."
But what made Thomas so special was not his abilities on the field but his defying character and personality off the field. Thomas was always one to try to give back to his community even at a young age. 
"He is very humble," Coppell Middle School North Texas History teacher Martha Thomas, Solomon's mother, said. "He's always done a lot [for the community] either through church, through sports programs, as a family we used to work once a month at a shelter in Dallas." 
When people see Solomon, they see a colossally intimidating man as Thomas stands 6 foot 2 inches and weighs 280 pounds. But in reality, Thomas is just another young man in an august body. 
"Solomon is a giant teddy-bear," Coppell track and assistant football coach Karl Pointer said. "He plays defensive line and, on the field, you are his enemy and he is going to do everything he can to beat you and make you look bad, and sack the quarterback. After the game, he is going to be the first guy to hug you and congratulate you."
Remembering and celebrating Solomon's excellence does not come without its own tear-jerking memories. A moment that will never be forgotten was his actions at the first football game after CHS tragically lost Jacob Logan, a close friend and teammate of Solomon, and Jonah Blackwell in the same week.
"When [Coppell] lost Jacob Logan that night and the next game we played with [Thomas] running out with Jordan (Jacob's sister)… that is a moment I will never forget," Pointer said, eyes filled with tears.
Many know of the tragedy that devastated the Coppell community in 2012 but another tragedy devastated the Thomas family more recently in 2018. 
On Jan. 23, 2018, the Thomas family received heartbreaking news their daughter and Solomon's sister, Ella, had tragically taken her own life at a friend's house. 
Solomon's world had come crashing down and his family was left devastated and lost for words.
The tragic suicide of his sister coupled with the lost of his teammate six years prior led Solomon to use his platform as a beakon of awareness for all those struggling with mental illnesses.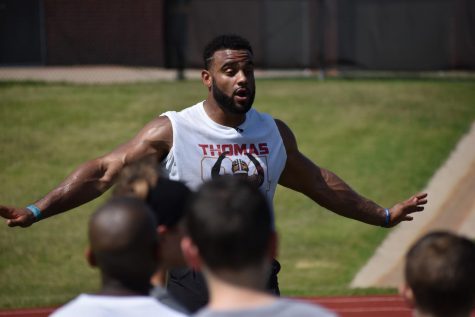 Solomon is part of a growing campaign in the NFL called My Cleats My Cause, where he uses his NFL platform to represent the American Foundation of Suicide Prevention and bring awareness to the world about the struggles of mental illnesses.
"There are a lot of people who are dealing with a lot of things, dealing with a lot of issues we do not normally see," Pointer said. "We think everybody's great and everything's rosy because we put on this face, this facade but the reality is but there's nothing but turmoil going on underneath the surface."
This Sunday, the Coppell community will gazed upon the big screens to watch one of its own and his team fight for a place in the history books in Super Bowl LIV. "He is ready for the game and he just wants to take care of business," Mrs. Thomas said.
Follow Meer (@meer_mahfuz) and @SidekickSports on Twitter.