Thomas hosts youth football camp in hometown Coppell
Born in Chicago and having lived in Australia for five years, San Francisco 49ers defensive end Solomon Thomas has numerous places to call his hometown. Yet he chooses Coppell, Texas, where he hosted the Solomon Thomas Youth Football Camp on Saturday from 9:00 a.m to noon.
The camp took place at Buddy Echols Field, where Thomas had played football throughout his four-year career at Coppell High School. The free camp was open to kids ages 8-16 and consisted of rotating stations where different drills were led by both coaches and professional football players. 
"I just really wanted to give back to the Coppell community, you know," said Thomas, a 2014 CHS graduate. "I grew up here, in this town, from fourth grade on. I played football here, this is the same field I played on, and I just wanted to give back and show the community that I'm still here. It's a passion of mine."
Thomas attended Denton Creek Elementary after moving to Coppell. He later attended Coppell Middle School North and eventually CHS, where he played on varsity his sophomore, junior and senior years. 
"I love [Coppell]," Thomas said. "I was raised here, it's hometown for me. I had my spots, I trained here, so I love being home with my family and everything. It's great." 
To make his first camp a reality, Thomas secured grant money from the NFL, which offers grant funding for hundreds of free youth football camps all over the country. From there, it was organizing and recruiting. For that, Thomas worked with one of his former coaches, current Coppell offensive coordinator Jay Jones. 
"It was just communicating with Solomon and his family and his mom and dad and organizing it and setting it up and making sure everything's going to run smooth and having a plan when we came out here," Jones said. "I've done camps before, so I kind of had an idea of how to make a camp work like this. I was basically saying, 'hey, this is the template that we've used before, do you like it or not?' And we modified it and tweaked it until we came up with a solution."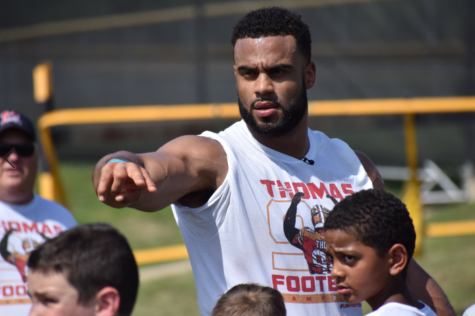 Thomas, who played collegiately at Stanford, was also able to work alongside some former teammates, including free agents Aziz Shittu and AJ Tarpley.
"[There are] great memories for Solomon," Thomas's mother, Martha Thomas, said. "[It is] really fun to see some of his high school teammates, as well as college teammates, as well as guys from the [NFL] that are with him, so that's just sweet."
The children were divided into groups based off of their age. The six-year age gap from the oldest (who are in high school) to youngest (who are still in elementary school) may seem large, but Solomon believes each age group benefits from the camp. 
"Early on to high school to ages going into middle school, fifth grade, they're all important times in your life," Solomon said. "I thought it was important to hit all these age groups to affect all these kids."
Not only did the camp impact multiple ages, its influence spread across numerous positions. For example, incoming CHS sophomore Nathan Schrock is a kicker. Though there was no station dedicated to kicking drills, Schrock still enjoyed the camp. 
"Obviously since I'm a kicker I don't really need all of this, but having that ability to know all the different positions just helps my athletic ability even more, so why not?" Schrock said. "My favorite part has just been the team spirit, and everyone encouraging each other and having everyone's back and always having that team connection. We're all a family."
No matter position or age, there is something Solomon wants each camper to take away after working three hours in the hot Texas weather. 
"I always tell them to be the best person they can be in everything they do, whatever aspect of your life that is, whether it's school, helping your mom around the house, whether it's football, sports," Solomon said. "Just always be the best person you can be and challenge yourself. Just really pay attention to the details of life and work hard in everything you do."
Follow Sally (@sparampottil) on Twitter.