Fronts of Coppell: Jewels N Cotton
Fronts of Coppell is a Sidekick series in which executive news editor Akhila Gunturu profiles a Coppell business owner to bring awareness to community-based establishments.
Coppell-based mom and daughter duo Julie Urbach and Jennifer Ham are the owners of Jewels N Cotton, a business dedicated to making customized overalls and jorts for seniors. Ham graduated from Coppell High School in 2007 and Urbach began Jewels N Cotton in 2009. More than a decade later, the two have grown their business to making up to 32 overalls a year and shipping as far as Tennessee. 
Why did you start Jewels N Cotton? 
Urbach: I've been doing overalls specifically since 2009. Every year, I would just take on five or six, seven pairs, and then, [Ham] would come and go, during some of the summers, and help out. [In 2020] she joined me full time. [Ham] has a marketing communications degree, bachelor's and master's from [Angelo State University], so it was a perfect fit. Not only do we like working with each other, but [she] also helps me on the technology [and] marketing side to get our name out there. 
How do you make a pair of senior overalls? 
Ham: We receive a lot of requests via Instagram, text messages, phone calls [and] Facebook, so we start with a consultation. We also offer DIY packages, so if [customers] want to decorate the overalls themselves, we can cut the letters or different accessories. However, let's just say [someone] wanted to do a consultation. We would get a date and time, and last year, because of the pandemic, we started doing Zoom consultations. We request that [customers] purchase the overalls and then try them on. We have you wash them three times, which helps to get the material ready for us. Once we set up your time and date, we ask you to drop the overalls off on our porch, and we then get everything ready for your consultation. 
When the consultation happens, we lay out the overalls and go through the fabrics. We like to ask a lot of questions right at the very beginning, because we like to get to know [our customers]. We want to know their personality, what colors they like, what sports they're in and what activities [they're] involved in. We go through those questions, and then we start pulling fabrics. We have two large bookcases, full of fabric. We like to narrow [fabrics] down to your specific personality. Then we start doing the design layout. We actually lay out the fabrics on the overalls. We start with the bib, and then we work with the leg, letters, the straps and the cuffs and bring that whole vision together. Once we have the fabrics done for the front of the overalls, then we move on to the trim. Then we take our pictures, we let you take pictures and then we take everything off, flip it to the back and do the exact same kind of concept. 
We have people contacting us starting in March, and it runs up into December, depending on when the overalls are needed. The overalls themselves typically take about a week once we start working on them. They take about a week turnaround. If the senior wants paint, it's an additional three days to let it dry and cure, so it could take anywhere from like five to eight days for us to do well and work on multiple overalls at the same time.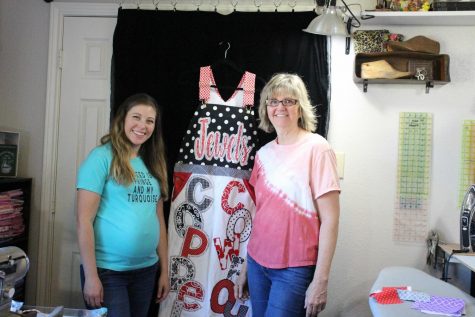 What's it like working as a mom-daughter duo? 
Ham: I love my boss. It's definitely a blessing. We've always gotten along. We work very well together. We are very like-minded, but just like any other business and mom and daughter duo we have our disagreements on certain things. But it's
definitely a very cool and surreal experience to be able to say, "Hey mom, I'm coming over to work." So, it's been really great. 
What are your goals for Jewels N Cotton?
Urbach: Our big thing is customer service. We want to offer impeccable customer service. That's our bread and butter. 
Ham: Because we got the DIY packages going last year and we've had several this year as well, [another goal is to] really expand the DIY packages to where those who don't think they have the creative bug, we can say, "You are creative, you can do this and we are here to help you." We really want to allow people to have that creative outlet that we have been blessed to have, grow our DIY package business, continue to grow the overall decorating business and then just grow together as a company and as a mom and daughter.
Follow Akhila (@akhila_gunturu) and @CHSCampusNews on Twitter.