COVID-19 Hate Crimes Act passes following waves of anti-Asian sentiment
On April 22, the United States Senate passed a bipartisan COVID-19 hate crimes bill to enact protections for the Asian American and Pacific Islander community. 
The bill is a concrete step from the government to combat the rise in anti-Asian sentiment since the pandemic. According to the Center for the Study of Hate & Extremism at California State University, San Bernardino, there has been a 169 percent surge in hate crimes since the first quarter of 2020. 
Coppell councilman John Jun moved from South Korea to Guam when he was 10. 
"We've come a long way for sure," Jun said. "I have had minimal experience with [anti-Asian hate]. But that doesn't mean someone else is not experiencing it right now. We need a national voice. We do need to make a stance and let people know that this is not OK." 
In Coppell, Asians make up 24.8 percent of the population as the second highest ethnicity. In Coppell ISD, Asians make the majority ethnicity at 51.6 percent. 
"There's a really high Asian American population here so I was able to find a home and make my own identity pretty easily," Coppell High School junior Sahan Yerram said. "But living in the areas where [Asians] the vulnerable groups [now], it just scares me to see how a virus can divide and bring out the worst in people." 
Since March 2020, physical hate crimes against Asians have spiked protest across the nation, but anti-Asian sentiment is rooted in American history, beginning from the Chinese Exclusion Act of 1882. Since then, Japanese internment during World War II, the Los Angeles riots in 1992 and hate following 9/11 directed towards Muslims and those perceived to be Muslim have shaped the country's relationship to Asian and Pacific Islander individuals.
"
I saw a sign that said 'hate has no home here.' And it is true, hate has no home here. But it's a matter of as individuals, what are we going to do about that?"
— John Jun, Coppell City Council Member
On March 18, eight people were killed in a series of mass shootings in three spas in Atlanta, Georgia. Six of the victims were women of Asian descent. On March 25, a 65-year old Asian woman was attacked by a man in New York. On April 15, a mass shooting in a FedEx Ground facility in Indianapolis, where 90 percent of the workers are of Sikh descent, resulted in the death of nine people. 
"I've seen examples of violent hate crimes done to such innocent, senior citizens that really took a toll on me and struck my heart," Yerram said. "When I saw those videos I saw my grandparents in them, and I was concerned about what would happen to them if they lived here in America." 
Anti-Asian hate also comes in the form of microaggressions. Microaggressions are everyday, indirect, subtle or unintentional instances of discrimination. Common examples of microaggressions against Asian and Pacific Islander individuals include mocking Asian culture, asking why someone doesn't "look Asian", ignoring the diversity found in Asia, and excusing cultural appropriation.
CHS junior Risa Azim half-Tawainese and half-Bangladeshi. 
"I got really weird stares when I walked in public with my parents because they're not from the same country," Azim said. "At the grocery store, for instance, if we were checking out, [people] would assume my parents are separate families." 
While there have been no organized efforts to combat anti-Asian sentiment in Coppell, the city has been encouraging diversity programs through the Cozby Library and Community Commons and other activities, such as the Kaleidoscope festival from 2019. 
"There are a number of things that Coppell does to try to make sure that diverse groups feel comfortable," Jun said. "[But] there's always room for improvement, regardless how good something is." 
The purpose of the COVID-19 Hate Crimes Act passed on April 22 is to facilitate federal action on the increase in Asian and Pacific Islander hate crimes, including issuing guidance on how to report crimes, detect crimes and expand education campaigns about hate crimes. 
"I was going around Coppell and I saw a sign that said 'hate has no home here,'" Jun said. "And it is true, hate has no home here. But it's a matter of as individuals, what are we going to do about that? What are we going to do if we see something that is not right?  Are we going to just go ahead and let it be? We have to think about how we can make this a better place and truly make it a place where hate really has no home here."
Follow Akhila (@akhila_gunturu) and @CHSCampusNews on Twitter. 
Leave a Comment
About the Contributors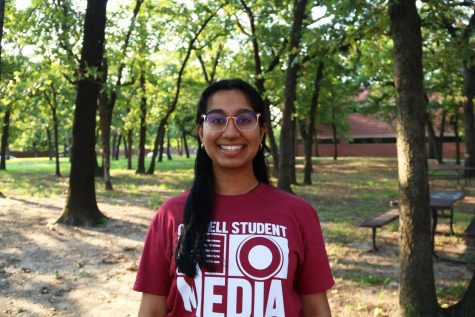 Akhila Gunturu, Staff Writer
Akhila is a senior and the Executive News Editor for The Sidekick. She is part of the IB Diploma Programme at CHS and when she isn't doing schoolwork,...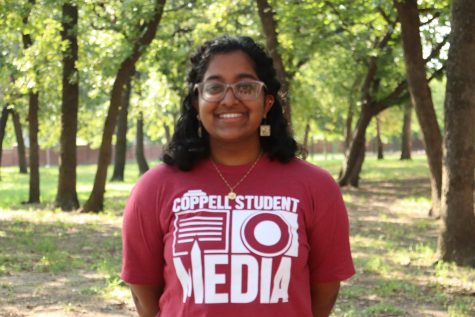 Trisha Atluri, Executive Entertainment Editor
Trisha is a senior at Coppell High School and the executive entertainment editor for The Sidekick. She enjoys playing ukulele and discovering new music...