Inaugural Shots by Bhavya fashion show hits the catwalk running
Vasireddy at forefront of campaign for body positivity
DALLAS – On Feb. 9, the lights came down at 6 p.m. at the Ervay Theater: a sleek, intimate black box where a catwalk had been fashioned to stretch down the center of the room, seats positioned on either side. Above, multi-colored lights swiveled back and forth, showering the room in a plume of luminary patterns.
A murmur of anticipation rippled through the crowd as, on the backdrop at the front of the catwalk, the following words emerged in elegant script:  "Shots By Bhavya 1st Annual Fashion Show".
Meanwhile, backstage, Coppell High School senior Bhavya Vasireddy stood in the eye of this glittering storm, tapping away on a Macbook as her models, designers, performers and sponsors swarmed around her in a frenzy, amidst racks of colorful outfits and empty pizza boxes.
"Give me just a minute," she had said with a laugh, flashing me a quick smile before she found herself swept away yet again to speak with a group of dancers.
Vasireddy is the founder of Shots by Bhavya, a Dallas-based modeling agency. As the creator, chief organizer and creative director of the show, I suspected she'd need more than just a minute.
This fashion show is the culmination of three months of her team's hard work, and the product of an idea that first came to her last summer, when she was invited to the graduation fashion show at the Bella Modeling School in Dallas to recruit new faces for her Shots for Bhavya agency.
"The way they did [the show] was so nice and so aesthetically-pleasing," Vasireddy said. "My mom and I were sitting in the VIP seats, wondering, 'can't we do something like this?' That's how the idea sort of started."
The show featured classical Indian styles, with outfits created by Beulah Sapphire Silks, HoneyBee Handlooms and Fashion Fiesta, three Dallas-based companies specializing in formal Indian wear. All proceeds from this event are to be donated to HopeKids, a cancer research organization.
At the heart of the show lies a resounding message of body positivity and diversity – one Vasireddy has been adamant about communicating since planning began. While scouting for her agency last year, she made it a priority to cast a diverse group of models who would accurately and realistically represent various body types.
"Not all models look like Victoria's Secret models, that's not realistic," Vasireddy said. "It's very rare to look like that. Models like [the ones featured tonight] don't get recognized a lot, so I really liked providing that platform for them."
The idea began small – but with 175 tickets sold, three featured fashion designers, a setlist of performers, student volunteers and various sponsors – including family-owned jewelry store Tanmai Jewelers and FunAsiA Radio – Vasireddy's show has transformed into something formidable.
"People told us if we're coming out as a business for the first time, you want to come with a bang, so this was our creation," Vasireddy said.
In order to ensure every part of the production would run smoothly, Vasireddy reached out to CHS classmates for additional volunteers – many of whom jumped on the opportunity to help a friend and experience something extraordinary.
"Honestly, I've had so much fun," said New Tech High @ Coppell senior volunteer Kamya Pentakota, who assisted with checking attendees in and helping models backstage. "I saw so many people who I haven't seen in a long time, and I got to enjoy this part of the fashion world, since I've never really been to a fashion show."
Vasireddy also had the help of her mother, Shanthi Vasireddy, who assisted in speaking with sponsors, promoting the event and curating designers and coordinators for the show.
"[Bhavya] had to balance between school and this [event], which was kind of a full-time job," Mrs. Vasireddy said. "To talk to people and bring everybody on board, it wasn't an easy thing."
Of course, behind the curtains of a seamless production, hosting an event of this size for the first time inevitably yielded some difficulties. Characteristic of any fashion show, changing models into new outfits was stressful and fast-paced.
"There were so many ups and downs to [tonight's show]," CHS junior model Tharani Muthukumar said. "Walking and changing was really stressful."
Other challenges included communicating with sponsors, negotiating with designers and creative conflicts on various aspects of the show between team members.
"It created ridges between me and certain people I didn't want to have ridges between, because I wanted to have that consistently positive relationship throughout the entire process," said Vasireddy,  before quickly affirming, "We should be good now."
In some sense, Pentakota says, this is what fashion and beauty is all about: "Making it look easy."
So, for many audience members, the evening could be considered nothing less than a success.
"It was great seeing my friends on the catwalk and just coming out to support them," said CHS senior attendee Sahana Ramasamy, a classmate of Vasireddy. "It's so impressive for [Bhavya] to put on a show like this, and it's definitely a great idea."
Needless to say, Vasireddy had added another notch in her belt – and at the end of the evening, she is already looking toward a new day. If her credentials don't attest to her ambition and drive, this non-stop work ethic she displays certainly does.
Vasireddy laughed and requested we sit down for her interview after the show, explaining her feet were "killing her" after an evening spent running around in heels. I didn't doubt it.
She seemed exhausted – but she was also glowing with satisfaction. We were sitting by the catwalk when Vasireddy informed me her team was planning on hosting a second show next year.
"It would be so wrong of us to give up after the first time, regardless of how hard it was," Vasireddy said. "This one was a success, and next year's will be even better."
I didn't doubt that, either.
Follow Kelly Wei @kellylinwei
Leave a Comment
About the Contributor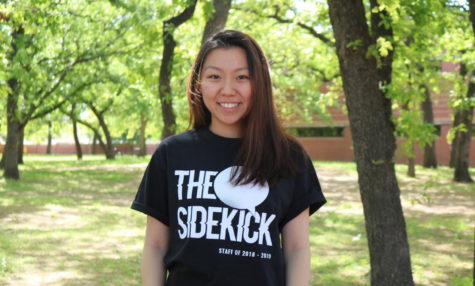 Kelly Wei, Editor-in-Chief
Kelly Wei is a senior staffer, serving her third year as Editor-in-Chief. In her free time, you can probably find her hiding out in a boba cafe with her...