Tennis wins important match to inch towards district title
After an intense and nerve-racking match, the Coppell varsity tennis team took a 12-7 win against Marcus yesterday on its home courts, maintaining its perfect district record.
Going in to the match, it was apparent defeating Marcus would be more difficult than dominating many other district teams has been for Coppell. Prior to Tuesday, the Marauders were undefeated this season. Particularly on the girls side, players from both teams had comparable UTR (Universal Tennis Rating) levels.
"We knew it was going to be a good quality match," Coppell coach Rich Foster said. "But [the team] played well. I give my tip of the hat to all of our girls [because] the girls were facing a team that was much closer to them. The boys won, but they should've won, because they were higher rated than the Marcus players. [Marcus's] girls on paper were just as good as our girls."
Although the final score may not sound close to some, if Marcus had snatched just three more matches, it would have won 10-9. Junior Aishwarya Kannan and sophomore Rishita Uppuluri's doubles match was key to Coppell's victory. Because the pair won their tiebreaker, and in turn their match, their team won 5-2 in doubles instead of 4-3.
"Had we lost [that tiebreaker], it would've been a totally different match," Foster said. "A 5-2 lead [in doubles] is much more difficult to overcome than a 4-3 lead. So because the win [wouldn't have seemed] as far out of reach to them, they [would have] become more excited, and they [would have played] better in singles. I don't mean this tackily, but it helps kill the opponent's spirit when you can take a strong lead after doubles."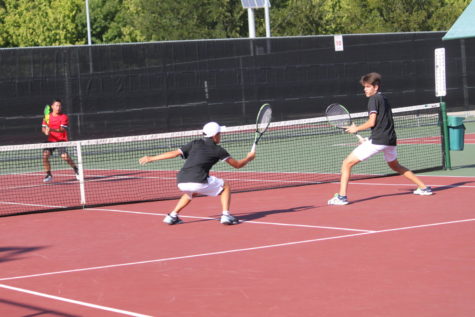 Throughout the beginning of the season, the team has been experimenting with the its doubles lineup, striving to find the most powerful combinations. Although doubles partners have solidified for over three weeks now, Foster made a last-minute change for yesterday's match after seeing Marcus's pairs.
"One of my coaching philosophies is consistency and so I usually don't [switch up doubles combinations], but because of Marcus's strengths I decided to this time," Foster said. "I was a little nervous about that, putting players together who hadn't played together in a while. But they stepped up, did an awesome job."
Even though the team played well, there are still areas for improvement.
"There definitely needs to be more cheering," senior Justin Bohn said. "That helps a lot when you hear your teammates cheering, and I noticed the other team was cheering a lot more than us."
Furthermore, often, when the game got close, Coppell players would tighten up, and change their style of playing.
"If Marcus made a comeback and got close [during a game], then we weren't striking the ball like we should, we were playing more defensibly than aggressively," Foster said. "We have to learn to remain aggressive."
Because of their win yesterday, Coppell tennis has taken another step toward its goal of seizing in a good spot in playoffs. The team will face off against Allen at its home courts this Friday.