Internationally best-selling author shares insights, inspires writers around Coppell
Although she usually writes for between five and 10 hours a day, best-selling author Julia Heaberlin is taking a break from the craft to promote her latest book, Paper Ghosts.
On Friday night, she visited the Cozby Library and Community Commons to meet fans and answer questions.
The Friends of the Library helped organize and sponsor the event. Attendee Adrienne Morton, who is also a Friend, was excited to have the opportunity to interact with her.
"It's so helpful to hear [writers] discuss their own work, and how they start with an idea — or maybe not even an idea — and they get to this finished product that they maybe didn't even anticipate completing," Morton said. "It's exciting to hear how they get from start to finish, and I think it inspires people to read and to write."
For the first half of the event, Library Director ​Victoria Chiavetta conducted an on-stage interview with Heaberlin, asking about a variety of topics from writing quirks to research.
Partly because she is also an award-winning journalist, Heaberlin places a large emphasis on research while writing her novels.
"There's all kinds of research I do to make sure my books are really accurate, that's really important to me," Heaberlin said. "If I have what they call 'writer's block', it's not true 'writer's block', it's that I don't know enough about what I'm writing about, so I need to go talk to someone."
For her book Black-Eyed Susans, she spoke with multiple people, including DNA expert Rhonda Roby and lawyer David R. Dow because of the story's focus on the death penalty and forensic science.
Being a psychological thriller and suspense novelist, Heaberlin gets much of her inspiration from dark sources, and often dark photography.
"For a brief period of time, [my grandfather] was a crime scene photographer," Heaberlin said. "When I think about my imagination and the seeds of dark photography, I think about this book that was in his basement."
It was the book containing his photographs of murder scenes, and Heaberlin was fascinated by the images. After introducing the book, she read aloud an essay she wrote about the effect it had on her.
After the interview concluded, the audience asked their own questions. Heaberlin received questions about her writing process, audiobook versions of her novels and a potential movie for Black-Eyed Susans, among others.
"[I plot out my books] very, very, very little [before writing them]," said Heaberlin when asked about her outlining process. "I didn't write a book for a really long time because I couldn't write an outline. I read Stephen King's On Writing, and that freed me, because he just throws up his book into the pages [with] no outline."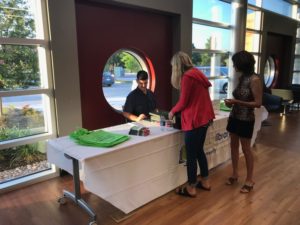 Once the event wrapped up, several audience members bought copies of Heaberlin's books — which were being sold in the library — and had them signed by her.
Many of those who read her work enjoyed the fact that most of her books are set in Texas, and many of the locations, traditions and ideas mentioned in them are recognizable.
"Her books really connects with the whole Texas theme," Friend of the Library attendee Bobbie Baumgarten said.
Attendees left with not only a signed book, but also the inspiration that comes with speaking to an acclaimed author.
"Publishing is very difficult," Heaberlin said. "You need that [emotional support] to become a writer. You need people to tell you 'don't give up, even if you're rejected.'"
About the Contributor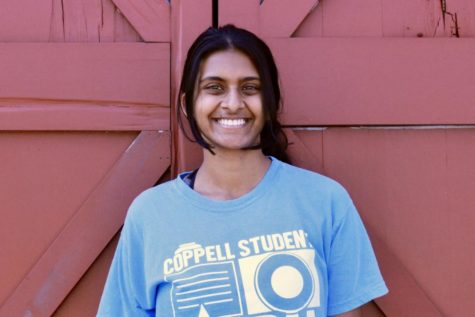 Pramika Kadari, Executive News and Enterprise Editor
Pramika Kadari is a senior and the Executive News/Enterprise Editor on The Sidekick. In her free time, she enjoys reading, writing, watching movies and...