Annual book festival features internationally-acclaimed Clare, attracts Texas readers
IRVING – With Cassandra Clare, author of the internationally-celebrated The Mortal Instruments series, attending the North Texas Teen Book Festival (NTTBF) this year, the attendee turnout was bound to be high.
The festival took place at the Irving Convention Center on Saturday included panels, book signings, fandom-related merchandise and giveaways.                                                              
As expected, several events with popular authors such as Clare attending were filled quickly, leaving some fans disappointed. Clare's books have sold more than 50 million copies.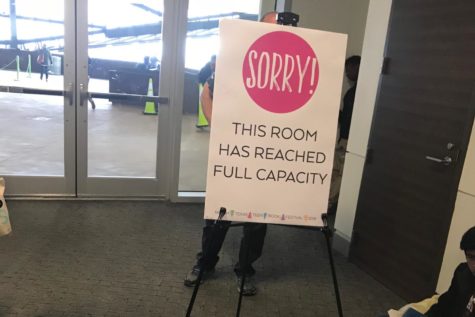 Early in the morning, the day began with many attendees standing in line for a wristband that allowed them to experience "speed dating with a book" – an event where fans have the opportunity to approach a table with several books, receive a short synopsis of each and choose one to take home. Wristbands for admission to book signings were also distributed at this time.
"One of my favorite parts [of the festival] is meeting the authors, even briefly, when you get your books signed," Coppell High School senior attendee Sarah Low said.
Low has been attending NTTBF since it began three years ago.
In the morning. a multitude of panel discussions with select authors occurred simultaneously, and attendees tried their best to visit their top-choice panels before they were full. New panels began every hour, with discussions spanning various topics such as romance literature, science fiction, LGBT representation and co-writing, among many others.
For the first part of each panel, the authors answered questions from the moderator, often cracking light-hearted jokes. This was followed by a question-and-answer session with the audience.
"From the panels, I've learned a lot about the different writing processes different authors undertake and their perspectives on it," Low said.
The Villains & Vagabonds panel with writers Holly Black, Michelle Hodkin, Claire Legrand, E. Lockhart and Sabaa Tahir focused on villains' motivation and the idea of antiheros. Many of the featured writers' protagonists had evident dark sides to them.
"I think [a traditional moral compass] is often what drives villains," Tahir said. "Often times, it's the villain and the hero wanting the same thing. It's just maybe their worlds are very different. Where they're coming from is very different even if they feel the same thing. [Also], for your antagonist, the hero is [often] the antagonist, so you can't really write a story from the point of view of a true antagonist."
Several thought provoking questions were asked during the Q&A, which led to incredibly intelligent answers from the authors regarding writing – answers that dug deep into the soul of the craft.
"
I believe the purpose of literature is the kind of radical empathy that pushes you – especially in an anti-hero narrative – into self-examination of your own moral character."
— E. Lockhart
"I believe the purpose of literature is the kind of radical empathy that pushes you – especially in an anti-hero narrative – into self-examination of your own moral character," author E. Lockhart said. "These books [by the authors up here] all trust the reader to engage in a moral dialogue with the book rather than handing them a message about being a good person or whatever."  
Authors Leigh Bardugo, Sarah Rees Brennan, Cinda Williams Chima, Stephanie Garber, Claire Legrand and Sabaa Tahir were featured in the Brave New World panel, which revolved around world-building, a critical part of developing a story. The authors discussed their differing processes for creating a vast, enriching world that engulfs readers in a universe so believable they may briefly forget it is fiction.
"I approach world building the same way I approach my characters," Garber said. "Finding out what is the core thing in the world. Also thinking 'how is my world also going to change throughout my story?' My hope is that [my characters'] actions will help the world change."
Although books should immerse readers in a realistic world, author Chima thinks some things should be left to readers' imagination, and there is a point when the writer is giving too many details. Balance is important.
"Find the key elements that will put the reader in the place without totally overwhelming them," Chima said. "Nobody wants to know everything I know about [my books]."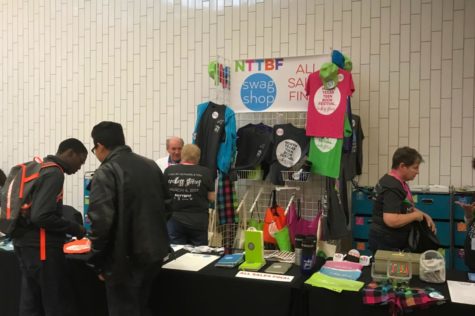 Numerous booths selling book-related goodies were set up around the building, and many of the stations were handing out free things. One of the popular free items were tote bags with various quotes from novels.
The excitement and love for literature radiating from every corner of the festival was infectious, inspiring the hearts of all passionate readers.
"I enjoy reading but I haven't been reading a lot lately," CHS junior Ahilesh Vasudaven said. "I want to pick up on it again."