Mathieu inspires local book lovers, shares literary journey (with video)
From telling her mother stories to write down for her as a child to becoming a published author of four books, author Jennifer Mathieu has come a long way.
On Saturday, she made an appearance at the Cozby Library and Community Commons to speak about her writing history and her recent book Moxie, as well as offer tips for aspiring writers and answer readers' questions.
"[Author visits are] a great opportunity for people to see why authors write, and a little bit behind the scenes, and just how to be an author," librarian Sarah Silverthorne said.
In addition to the Cozby Library staff, volunteer groups such as The Friends of the Library and the League of Extraordinary Teens also helped organize the event.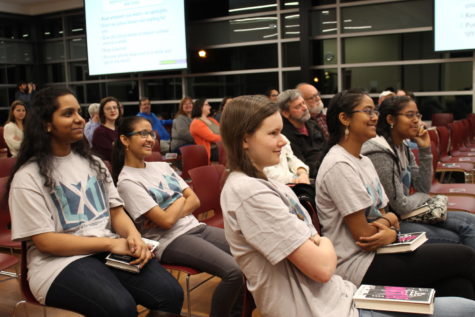 Mathieu's presentation began with an overview of her previous books – The Truth about Alice, Devoted and Afterward – which are all young adult novels.
"I write for teenagers but I also have a lot of adults read my books, so I always just say I write about teenagers," Mathieu said. "There's a lot of adults who want to read about being a teenager, and I think because that time in our life was so impactful, for better or worse."
Mathieu kept the evening humorous by sharing funny stories regarding her writing career. For example, she recounted a time when The Truth about Alice was being sold at Costco in Mexico, and if someone bought the book, they would receive a free hot dog and soda as well.
"Even if I became the next J.K. Rowling… it wouldn't beat this," Mathieu said. "Not only was my book being sold in Costco, but it was getting people hotdogs."
This story, along with others, left the audience roaring with laughter.
Mathieu has always known she wanted to be a writer, and would think of many stories as a child. When she was in fifth grade, her school held a book fair, for which each student would have to write a short book; the winner would have his/her book placed in the school library.
"I won the whole school," Mathieu said. "The idea that people I didn't know were reading something I had written was a life changer for me, it blew my mind, and it made me think that this was something I wanted to do."
In high school, Mathieu edited her school newspaper, was an avid reader, and kept a journal, which she still has. Despite the fact she was a good student, she was not very happy during this time in her life. However, her love for writing helped her through her struggles.
"When I look back at my high school years, they were really rough," Mathieu said. "In hindsight, I was actually really depressed. I had a lot of anxiety issues…[and] put a lot of pressure on myself. The way I made it through was that I found an outlet and it was writing," Mathieu said.
"
I found an outlet and it was writing."
— Jennifer Matieu
After telling the audience her history with writing, Mathieu moved on to speaking specifically about her latest release, Moxie. Moxie is a young adult novel and revolves around a teenage girl who starts a feminist revolution in her small Texas high school.
"When I go to high schools and say this is a book about feminism, I see boys go like 'oh does she hate men?' Well I can't hate men because I'm married to one that I really like, and I have a son, so if I hated men I would be in trouble," Mathieu said, sending chuckles rippling through the crowd. "I always make a point to say that feminism is not about hating men at all, feminism is for men too… it's about being our full liberated selves, and not being suffocated by these strict ridiculous rules that our culture created."
Mathieu's powerful statement about feminism had both men and women in the audience nodding in agreement.
Near the end of the presentation, Mathieu shared a list of writing and reading tips, which were aimed at teenagers but could apply to adults as well. These tips included "Read whatever you want–no apologies", "Keep a journal" and "Put your phone away once in a while and spy on the world."
"To write fiction… you have to be a good spy of human behavior. And you have to be bored to come up with ideas, and that really can only work if you put your phone away," Mathieu said. "I do sometimes wonder if I would be where I am right now if I had a phone. So much of my imagination muscle was built because I spent so much of my life bored."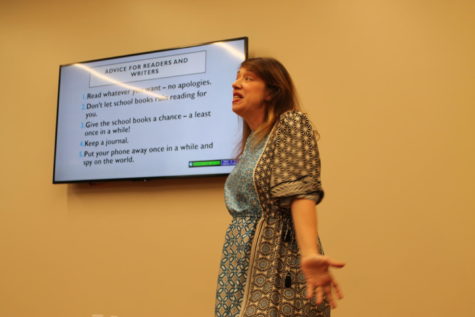 The event concluded with Mathieu opening the floor to questions. The crowd was filled with a diversity, regarding both age and gender. Many shot their hands into the air eagerly.
"At events like this, I really like to hear others' questions and the author's answers to them," attendee Vin Merill said.
After answering everyone's questions, Mathieu invited readers to approach her and have their books signed. However, the most valuable thing fans took home last night was not the signed book clutched in their hands, but the knowledge and inspiration that came with speaking to a successful author.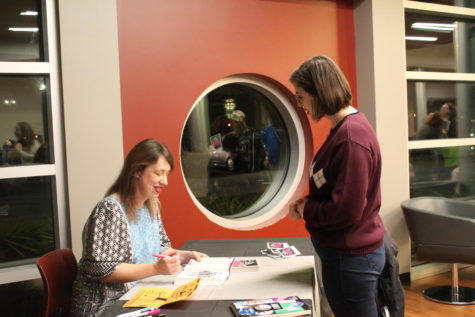 Follow Pramika @pramika_kadari on Twitter
About the Contributors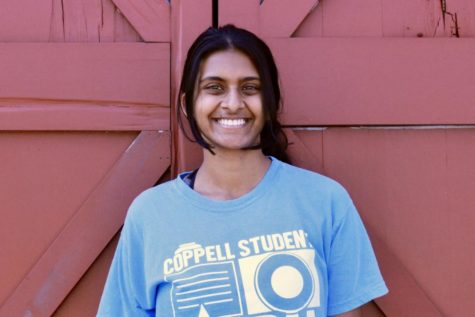 Pramika Kadari, Executive News and Enterprise Editor
Pramika Kadari is a senior and the Executive News/Enterprise Editor on The Sidekick. In her free time, she enjoys reading, writing, watching movies and...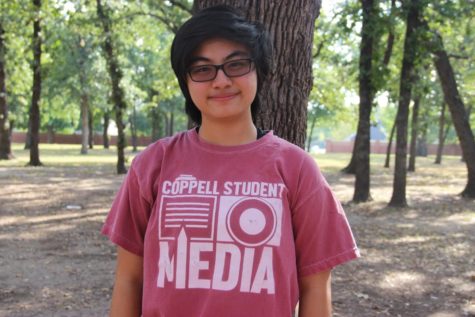 Wren Lee, Executive Design Editor
Wren is a senior. She moved here from the Land of Disney: Orlando, Florida. Yes, she went to Disney a lot. Yes, she has been to Universal. Wren adores...