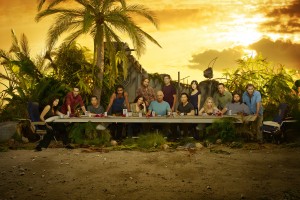 Rebecca Neumann
Staff Writer
Apparently, there are only three different types of people: Those who love "Lost" and can't get enough of it; those who used to watch "Lost" but got confused and stopped watching; and those who have never watched an episode in their life and don't understand what all the fuss is about.
Although most people are familiar with the show because of its extreme popularity when it premiered in 2004, a significant portion of its audience abandoned it after the third season.
Some, including executive producers Damon Lindelof and Carlton Cuse, believe the show was saved in May 2007 when they both appealed to ABC to allow them to set an end date for the show.
At the time, the show seemed to be wandering and viewership decreased. So to help guide the story, the producers set an ending, leading it away from the tragic fates of many shows like it that started off strong but ended when the plot and character development dried up.
However, now in its sixth season, the show has retained a good portion of loyal fans. 11 million to be exact. Chemistry teacher and IB coordinator Jeb Puryear is one of these devoted "Lost" fans.
"The people that are very into ["Lost"] like to talk about [the show] with other people," he said. "It's like anything else. It's like if there was a movie or a book or something like that you were really into. It's the same as people being really into Harry Potter or the Twilight series."
Junior Hilary Taylor watched a few episodes of "Lost" in its early days, but was turned off when it got too complicated.
"I watched a couple of episodes in the first season but then I missed some episodes and got "Lost" about "Lost"," Taylor said. "I didn't know what was going on so I just stopped watching it because I couldn't follow it. When you miss an episode, you can't follow the rest of the series. I couldn't get back into it. Now even if I wanted to, I'd have to go back and watch a whole season over again to catch up."
Junior Violet Coker was once a "Lost" fan, but found the show more trouble than it was worth.
"I watched the first couple of seasons but the plot got way too complicated," she said. "There were a lot of questions being raised, but none of them were being answered. I started thinking they had run out of things to do and "Lost" track of the original plan of the show."
Then she found, with the show so dense in plot, she could not understand what was going on after she took a break from the show and tried to come back to it.
"I tried coming back to the show because my mom's really into it," Coker said. "However, I found that after I missed a few episodes, I had no clue what was going on and it wasn't worth it."
The end is near for "Lost" and true fans are more excited than ever to have their burning questions answered, even though it is becoming more and more difficult for non-fans to understand what happening.
"There's hardly anyone that doesn't know what "Lost" is, especially this year," Puryear said. "But there are people that never started watching because it never interested them or they started it and got bored or they just continued to watch. There really is not a middle person."