Survive and advance: Cowboys stave off late rally in area round victory
WACO – Trailing by five goals with a little more than 10 minutes to play, it looked as if The Woodlands boys soccer team was going to need magic to pull off the comeback over Coppell. And as if it was a disappearing act, the Cowboys' lead slowly dissipated, until it was only two with 12 minutes to go.
Yet, in a showing of true grit, Coppell was able to hold on for the win, taking the match 6-3 at University of Mary Hardin-Baylor to move on to the Class 6A Region II quarterfinals against Sachse. The match will be played at McKinney's Ron Poe Stadium on Tuesday at 8 p.m.
"When you go from up 5-0 to 5-3 and then you go and find another [goal], it just shows the resilience and the focus on just taking care of business," Coppell coach Chad Rakestraw said. "Although there is adversity, [we were] able to push through that and grow."
After junior forward Wyatt Priest scored his first goal of the match to give Coppell the 5-0 lead, it looked as if the match had been decided. However, a yellow card given to Priest on the celebration, his second of the match, sent him to the sideline, leaving the Cowboys down a man.
"We've never really trained to go down a man, it hasn't really happened this year," Rakestraw said. "The adjustments took a couple of minutes to get right. We had to actually make two adjustments."
Before the adjustments were made properly, The Woodlands took advantage, scoring two goals in less than a minute to cut the lead to three. Then, several minutes later, the Highlanders scored a third. With the momentum entirely with The Woodlands, it was time for Coppell to load up the box and lock down for the remainder of the match. With the help of leadership from sophomore goalkeeper Giovanni Lomeli and a group of senior defenders, the Cowboys held onto the lead late to secure the victory.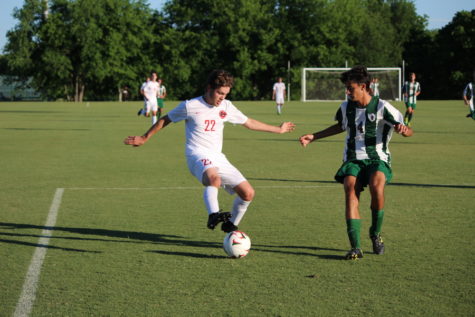 "We had to bring our energy up," junior midfielder Amit Verma said. "I've got to say, [Lomeli] really helped us in the [match] too. He helped bring our energy up, and In our defense, even when we got sloppy, he stepped up as a leader to help us out. That was one of the biggest things that helped us win this [match]."
With minutes remaining, clinging to a 5-3 lead, a goal for Coppell would ice the victory. After receiving a ball deep in attacking territory, junior defender Jacob Turman made a nice run into the corner then assisted senior defender Bishesh Manandhar for the goal, sealing the 6-3 win.
"It was great," Manandhar said. "Jake made a great run, made it easy for me, so I was able to have a nice tap in. It was a great moment."
In the regional quarterfinals, Coppell will take on Sachse without the presence of Priest, who is out for one match after the red card. However, with the confidence gained in the convincing win over a state top 10 team, the Cowboys will call on their wealth of talent at the forward position to try to reach the regional tournament for the second consecutive season.
"We played some of the best soccer we've played all year," Rakestraw said. "To show dominance like we did, to be up 5-0 and then go and find another one is a phenomenal performance. It showed the level we're capable of playing at."