Big things to do in the Big Apple: A go to travelers guide to New York City
New York, a shining haven where dreams come true. From Broadway shows to shopping, there's always something to do in the bustling city.
"The lights, the people, the music…It was all so new and amazing," said senior Tara Park after returning from Coppell High School Choir's New York trip during spring break.
But planning a vacation to one of the biggest cities in the world can be overwhelming and finding the balance between tourist attractions and the New Yorker's favorites may seem impossible.
The following list of restaurants, shows and attractions is mix of touristy go-tos and a wanderer's havens, and will keep one's vacation fun while fellow travelers attempt in vain to hit every page of their travel guide.
Restaurants
By Chloe
Located near New York University, By Chloe is a small vegan restaurant with lots of filling, healthy options to give tourists energy for their busy day. Packed both with locals and travelers, the restaurant contains minimal seating, but is in a prime location for a stroll with a sandwich or cookie in hand.
Address: 185 Bleecker Street
New York, NY 10012
Little Steamed Buns Ramen
Tucked away on 8th Ave, this Chinese restaurant caters to cravings with a talent that surpasses expectations. The restaurant was even recognized in an article in The New York Times for it's hand-pulled noodles. Conveniently located near several Broadway theaters, the restaurant is a go-to stop on the way to an evening show.
Address: 811 8th Ave
New York, NY 10019
Phone: (917) 388-2555
http://www.kungfulittlesteamedbunsramen.com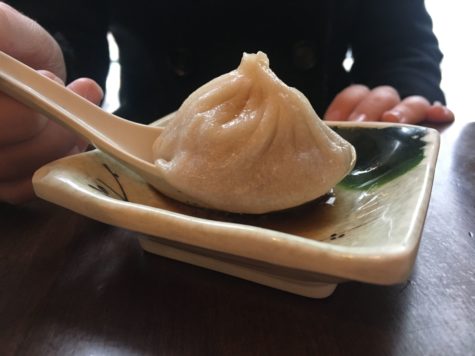 Ellen's Stardust Diner
Because a meal isn't complete without confetti, dance offs and live displays of vocal talent, Ellen's Stardust Diner has it all. Home to the singing waitstaff, Ellen's allows diners to enjoy comfort food while watching aspiring actors and actresses sing the day away. Who knows, maybe your waitress today will be the next big thing on Broadway tomorrow.
Address: 1650 Broadway,
New York, NY 10019
Phone: (212) 956-5151
http://ellensstardustdiner.com
Shows
Dear Evan Hansen
For an eye opening, tear duct emptying performance, visit the Music Box Theater for a show that surpasses all expectations. The broadway musical follows the story of Evan Hansen, a 17-year-old depressed and lonely boy who fabricates a friendship with Connor Murphy, a fellow classmate who committed suicide. As Evan grows closer to Connor's sister and parents, and falls deeper into his lie, the show reaches an emotional climax rarely seen on a stage. It is an amazing way to spend an evening.
The Music Box Theatre
239 W 45th St
New York, NY 10036
Click here to order tickets online.
Amelie
Amelie is a feel good show starring Phillipa Soo, an actress known for her role as Eliza in Hamilton. The show follows the heartwarming journey of a young French woman bent on doing random acts of kindness as she discovers and alludes love through secret messages and carefully planned games. The brand new production embraces dreamers, do-gooders and hopeless romantics while enticing anyone and everyone to enjoy their happy and hopeful songs.
Walter Kerr Theatre
218 West 48th Street,
New York, NY 10036
Click here to order tickets online.
Attractions
9/11 Memorial
This historic museum is deeply moving and informative. From audio recordings of phone calls made from  the planes and the towers to demolished fire engines and tower remains, this museum is sure to make visitors stop and think. The incredibly informative museum sits right beside the two 9/11 memorial pools, prime locations to reflect on what our country endured.
The 9/11 Memorial and Museum
180 Greenwich Street
New York, NY 10007
Click here to order tickets online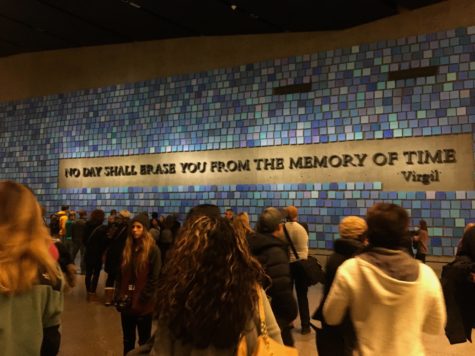 Wall Street
This is a short excursion but one full of historical and moral value. On Wall Street, one can see the location where George Washington was sworn in as our first president, the New York Stock Exchange and the Wall Street Bull. But perhaps the most interesting sight is the statue of a little girl now facing the Wall Street Bull in defiance. A trip down to Wall Street is sure to leave an impression.
Liberty Island
A short ferry ride away from the city, Liberty Island houses the great Lady Liberty. The statue is drenched in American history and visiting her island a humbling experience.
"I think it holds a lot of meaning that I don't think people recognize just seeing it on a poster," junior Abby Hymer said after visiting Lady Liberty. "Being able to see it in person brings it to life."
Liberty Island
New York, NY 10004
https://www.nps.gov/stli/index.htm
Click here to order tickets to the Crown.
Wollman Rink
If you're lucky enough to visit New York during the winter months, stop by the Wollman Rink, a skating rink tucked away in Central Park. The rink is cozily nestled into the city with the park's natural buffer, allowing a step away from the busy world of NYC. With music playing overhead and skates on your feet it is sure to be a relaxing experience.
"It was kind of peaceful, I liked how we were in our own little corner," said junior Tori Kennedy. "If you're looking to just have fun, it's guaranteed there."
Follow Amelia @ameliavanyo
About the Writer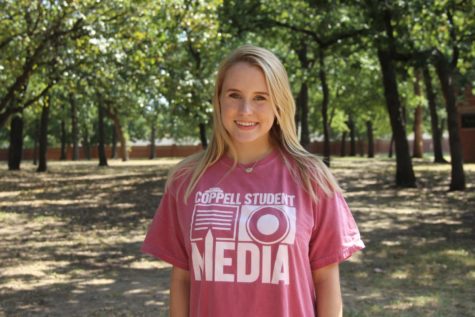 Amelia Vanyo, Editor-In-Chief, Executive News Editor
Amelia is a senior and has been a part of The Sidekick for two years. This year she is serving as the paper's Editor-In-Chief and Executive News Editor....