Despite poor play, Cowboys soccer pick up senior night win
It is not often in sports that a two goal victory is seen as a poor night. But after the Coppell boys soccer team's 4-2 win over Richardson on Friday night, spirits were not high. Many heads hung low, as even with the win, the performance was not up to par with their standards.
"The win isn't as important as the performance, and the performance was pretty poor," Coppell coach Chad Rakestraw said. "There were some decent individual performances, with [senior forward Nick] Taylor getting a couple of goals, but overall, as a team, it was a really, really poor performance unfortunately."
Taylor was among the bright spots of the night for Coppell (14-2-1 overall, 11-1-1 District 9-6A), as he finished his final match at Buddy Echols Field with two goals on a pair of great shots. In addition, senior forward Jacob Capdevila, who continues to add more and more value to the team after joining this year, put in a goal and two assists, including one on a pass to Taylor where he beat the goalkeeper in a great hustle play.
"It felt great," said Taylor of his performance. "It still hasn't hit me yet that it's my last game [at Buddy Echols Field]. It's going to be pretty bittersweet when it comes to realization."
Despite the high-energy play from the attack, particularly in the first half, the defensive play was not one of the better performances on the season. Some sloppy passing in the first half led to an early goal for Richardson that tied the match at 1.
"It was just laziness," Rakestraw said. "You've got a guy dribbling across the box, across the middle of the field and a midfielder doesn't pick him up, and the back four just kind of lets him take a shot, and the keeper didn't get the save. It was just all around poor."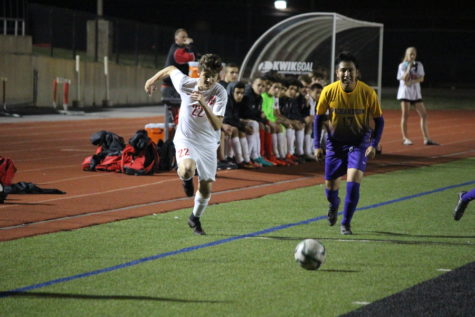 After Friday night's match, the Cowboys head to Tennessee in the coming week for the Smoky Mountain Cup tournament, where they can hope to regain composure and confidence as they begin their playoff journey on March 24 against Lakeview Centennial.
"We have practice on Tuesday, and then we go to Tennessee.," Taylor said. "Those are great opportunities for us to get that passion, to get that team chemistry going for the playoffs. That's going to be it [for us]. Last year, we had a lot of team chemistry, and if we find it this year, we're going to be just as good if not better."