Theatre department laughs it up in Leading Ladies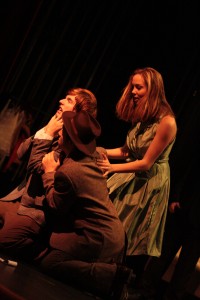 Ashleigh Heaton
Entertainment Editor
The University Interscholastic League (UIL) One-Act Play season is amidst us, sparking up a heightened sense of dramatic excellence and fierce competition as schools from across the nation prepare their best actors to perform at the top of their abilities, trying to pull out a performance that will leave their audience in tears. This year, Coppell High School's theatre department aims to draw these same tears through their play Leading Ladies – tears from uncontrollable laughter, that is.
The show follows Jack and Leo, two Shakespearean actors who are so down on their luck that they decide to masquerade as a dying old woman's long-lost relatives Max and Steve, whom she is entrusting her fortune to. Lo and behold, though, that when the pair arrives, they discover that "Max and Steve" are really "Maxine and Stephanie". Throw in some romantic entanglements, quick wit and cross-dressing and let the comedy ensue.
The comedic approach to the competition is new to the theatre department – and one that will hopefully escalate the troupe to higher levels.
"We hadn't done a comedy – at least as long as I have been directing here – for the One Acts, so I thought we would have some fun this year," director and theatre department head Lisa Tabor said. "They did such a good job with Translations last year and, with it being a heavy drama, I thought [a comedy was] what we needed to do."
Seniors Jacob Harpel and Jake McCready will be playing Jack and Leo, respectively, and have stepped up to take on the unusual task of dressing in drag. Donning pairs of heels – all for the sake of theatre – the comedians add a huge element of farce that truly pulls the show together.
"[The cross-dressing] is hilarious," junior cast member Mandy Mullarkey said. "Seeing the boys in their dresses and their wigs and their chest hair and their fake boobs – it's just a horrifyingly hilarious experience."
Though the situation is comical, the actors are treating the show with as much seriousness as they would any other show.
"I want it to be funny – because it's a comedy, obviously – but I also want it to all make sense and be a little bit believable and for people to think, 'That's a girl up on stage' at some points," McCready said. "I want to trick the audience into thinking 'That's a girl' and then have them realize, 'Wait, no, that's a guy dressed up.'"
Leading Ladies was originally written by Ken Ludwig in 2004 as a full-length play – but, since UIL only allows for exactly 40 minutes of performance (the equivalent to one act in a regular play,) the script had to be cut down considerably to make the show run in the time allotted. The process of cutting down the play is a necessary burden for all One-Act productions, but has proven especially difficult when presenting a comedy due to continuity and keeping up with the humor.
"It is hard [to cut] – in fact, we're still cutting," Tabor said. "There have been some bits and some scenes that I wish could have been in there, but you've got to pick the funniest moments and reap those – cut everything else."
Another challenging aspect of the show is the back-stage work, which includes lights, sounds and set work. Because of the regulations set down by the UIL committee, much of the back-stage process is restricted both creatively and technically – everything from the height of set pieces to props.
"We compete at a different school with a different light board, so I have 30 minutes beforehand to program all the lights in," junior and light technician Chelsea Davis said. "Sometimes, the lights don't have programs, so I'd have to do it manually."
Though the competition may be intense, it can also draw strong performances from actors and crew alike.
"The thing I like about One-Act is that it is purely competition," McCready said. "It doesn't matter how good you are. For One-Act, you have 40 minutes to show the judge what you can do, be the best that you can be, and if you're not, you're out. And all this work you've done is just over. It's cool to know that we've worked so hard and we could be out in a second with just one simple mistake."
Free performance: March 25 at 7:30 in auditorium
Region competition: March 30 at Marcus High School