Cowgirls take win in their bond, match against Lake Highlands
As the varsity girls soccer match against Lake Highlands began on Tuesday evening at Buddy Echols Field, the Cowgirls pushed against the wind to keep the ball on the opponent's half, scoring three times to close the score at 3-0 at the end of the second half, taking their record a step higher with nine shutouts.
The Cowgirls played with connectivity and strength throughout the first half, finishing up 2-0 with goals from junior midfield Ty Runnels and sophomore forward Rebecca Watley.
In the second half, sophomore forward Micayla Weathers scored twice, but one was called offside, landing Coppell with 3-0 victory at the end of the match.
It was striking how well the group came together to play as a team. The team is a melting pot of all ninth through 12th graders, yet it played with a unity that would suggest they are more alike than different.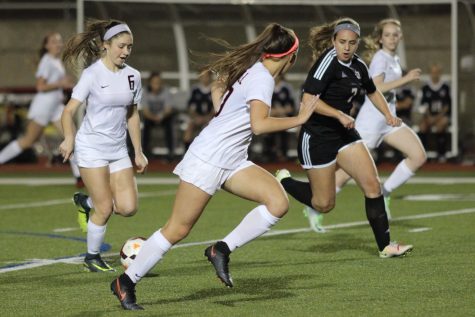 "This year the team's really come together and it's a family feel in our locker room, in our training," Coppell coach Ryan Dunlevy said. "It's carried over on the field because they hold eachother accountable."
Their playing was so connected as such that it seemed each girl knew the whereabouts of each other teammate at all times, so that the ball seemed to gravitate between the Cowgirls.
"We're all really really good friends so it works well because we work well together,"  junior defender Ashley Rivera said. "We know who we are instead of it just being random people."
The team's friendship allowed the team to pull out the win, despite the Lake Highlands defense's valiant efforts.

The Cowgirls will work to bring their effort and connectivity their next match as it takes on the W.T. White Longhorns on Feb 3 at CHS.
About the Writer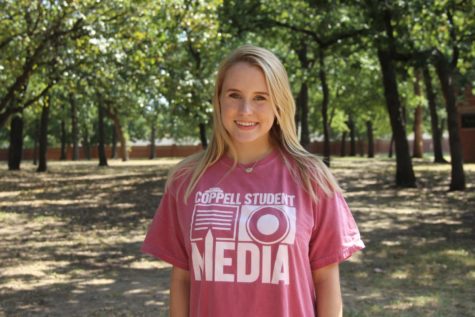 Amelia Vanyo, Editor-In-Chief, Executive News Editor
Amelia is a senior and has been a part of The Sidekick for two years. This year she is serving as the paper's Editor-In-Chief and Executive News Editor....