Starting off strong: Cowgirls take early lead, never look back in playoff victory
PLANO — Sometimes teams can play down to the level of their opponent, but last night the Coppell volleyball team (28-14) did not do that. From the first point to the last, the Cowgirls made quick work of their bi-district opponent, defeating Garland (10-15) in straight sets (25-14, 25-11, 25-8). Play was highlighted by efficient passing and dominant hitting (the team hit .325 on the night).
Coppell junior middle hitter Riley Ross owned the first set with several kills and blocks, continuing her superb play from the regular season. Junior defensive specialist Ava Racz got the Cowgirls out to a 4-0 lead that would only widen, as they lead by eight points for much of the set. Eventually, Coppell by 11 with a score of 25-14.
"We passed and hit well," Coppell coach Julie Green said. "All of our hitters did really well tonight, no one hit less than .200, so for us to be a little bit more balanced offensively is a really big deal for us."
Garland never led in this entire three-set match. The defense that carried Coppell through its five-game winning streak to end the season had the pressure taken off it tonight with their consistent offense.
The second set looked to be a close one when Coppell started out with a 7-6 lead, yet the Cowgirls quickly rattled off seven straight points as it cruised to a 25-11 set win largely in part to Coppell senior outside hitter Grace Heaton's five kills and three blocks.
After Heaton and Ross controlled the first and second set, some younger players got in on the action in the third, including freshman middle hitter Avery Hellmuth who got the final kill that concluded Coppell's first round with a 25-8 set.
The Cowgirls have had great on-court energy all year, an impressive accomplishment for a team that won 10 of its 12 district matches in three sets, an attribute that will bode well as they go deeper into the Class 6A state playoffs.
Coppell advances to play Class 6A No. 11 The Woodlands (1-0), who beat Mesquite Horn (0-1) 3-0. Date and time have yet to be announced, but this could be the Cowgirls hardest test until the state tournament.
"For next round, we need to improve on execution," Ross said. "But our effort was really good and that's what we are going to carry into next round."
About the Writer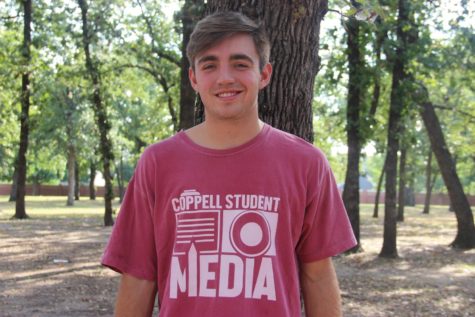 Reid Valentine, Sports Copy Editor
Reid Valentine is a third-year staffer on The Sidekick who is mainly a sports writer with a passion for feature stories. His dream since being a child...