DogFest raises awareness, displays Keller teen's amazing story
For many, dogs are simply pets, just another member of their family. The Canine Corporation for Independence's annual DogFest, their annual nationwide fundraising event, showed that for many people, dogs can mean so much more.
The event, held on Saturday morning at CCI's South Central Campus located in Irving, Texas, brought the community live music from the local band Radio Edit, tents set up with representatives from various local corporations and a half mile Walk and Roll. All proceeds raised at the event went to CCI.
"Really, it's all about outreach," CCI National Events Manager Nancy Murray said. "Just letting people know who we are, what we do, not only to find people to volunteer as puppy raisers or here on the campus, but of course to support us financially, and also for people looking to receive one of our dogs, just letting people know that we're here."
Among the throng of CCI employees, volunteer puppy raisers, service dog owners and other members of the community, 15-year-old Keller High School student Adam O'Day stood out from the rest. O'Day took the stage in front of the 300-plus attendees and helped to tell his story of him and his service dog, Tyler.
O'Day, who was diagnosed with autism several years ago, was struggling with communication and social skills. On a whim, his family decided to apply for a service dog almost four years ago. After 18 months, Adam brought home Tyler, a black lab. Since then, his life has completely changed.
"They started becoming best friends, just like you would become best friends with somebody," Adam's mother Anna O'Day said. "At the end of that year, I was like 'their bond is undeniable'. Over time, Adam just grew, and had that confidence and that love that he was secure in."
Tyler travels with Adam wherever he goes, going with him anywhere from when Adam gets a haircut or just a quick bite to eat. The only exception to this is when Adam heads off to school at Keller High. However, Tyler's impact on his life continues even when they are not together.
"It translates to school for sure," Anna O'Day said. "Tyler's not with him at school, however, [Adam] is [social] at school, and he's socially appropriate. He says hi to people and he plays on the football team; he's well known."
In recent years, Tyler has allowed Adam to grow in his social abilities immensely. While much of that is due to the confidence and mental support that Tyler provides, Adam has talked about his story at a variety of different CCI events, luncheons and other events, giving him an extra level of comfort in public speaking situations that he never could have dreamed of having.
"It's an interesting benefit," Anna O'Day said. "When we were looking for a companion for Adam, it's something that we couldn't have anticipated. Him being able to speak in front of other people, that's not a benefit that I necessarily would seek out but that we got and has been a great life skill for him."
Tyler's assistance to Adam extends beyond just himself and even beyond the O'Day family.
"Five years ago, Adam's younger brother Zach played on a football team with a young kid [who] had some trouble staying involved and paying attention," Adam's father Mike O'Day said. "A mutual friend between our two families ran into each other a year or two ago, and mentioned the struggles they were having. The mom called Anna, we went the same day. Anna took Adam and Tyler over to meet with the family, and, low and behold, they applied for the process and now they're here with the dog."
This simple act of letting Tyler meet the family and their son, Andrew Kautz, got them into the CCI organization, a choice that, like in Adam's case, would change their lives.
"Adam and Andrew have similar conditions," Andrew's mother Ellen Kautz said. "It had been really effective helpful for them and we knew that Andrew would be helped a lot. It's just been wonderful for him."
Although Andrew has only had his dog Pensee for around five months, Andrew and his family have already begun to see benefits.
"Last year, I really misbehaved a lot," Andrew said. "Now this year, I have a lot less misbehavior problems because of Pensee. She has really significantly changed my behavior, and probably will forever change it too."
Prior to this event, CCI raised almost $50,000 and more donations poured in as the day went on. Yet, while the fundraisers help, the reason the event was put on was for much more than the money– it was for the stories, just like Adam and Andrew's.
"The stories are really what make [the DogFest] what it is," Murray said. "Whether it's someone with a service dog with a physical disability, or [our hearing graduates], to see the impact that the dogs make to not only the recipient but everyone around them, it's really neat."
Leave a Comment
About the Contributors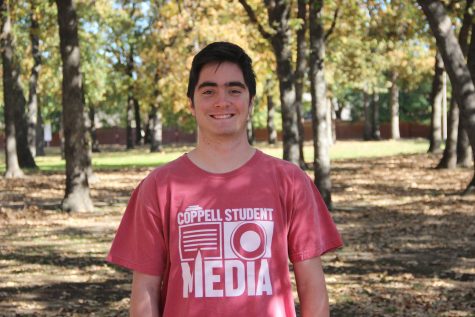 Marcus Krum, Executive Sports Editor
Marcus Krum is a senior at Coppell High School. In his third year on staff, he is the sports executive editor. In his years on staff, he focuses mainly...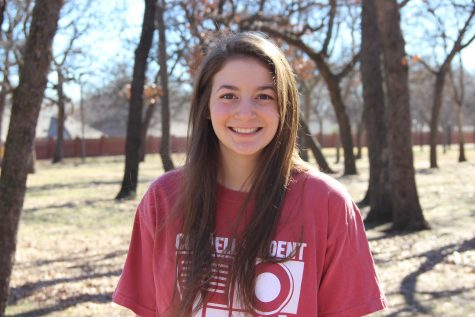 Aubrie Sisk, Communications Manager
Aubrie Sisk is a senior at Coppell High School and the Communications Manager for The Sidekick. She's played piano for eight years and has a passion...