Milk-less guilt-less cupcakes
Veganism is a lifestyle more than just a dietary practice to most vegans. That includes trying to convert people to eating vegan and spreading word about their community. Thus, vegans have a bad rep in society for being pushy or overbearing.
Having a vegan sister has shown me the truths and fallacies surrounding vegans. She does push me and has changed many aspects of my diet, but for good reason. She may be overbearing at times, about what I choose to eat, but most everything she has told me about veganism is true and beneficial to my health.
Although I am not vegan, most of the food I eat at home is vegan because my sister tries her best to put our family on a vegan based diet. Grocery shopping with my sister is a challenge because she tries to refrain me from buying non vegan foods. Thus, many recipes from the Pyon household are redesigned to exclude any animal products, including these chocolate cupcakes.
Things you need for this recipe:
1/3 cup unsweetened cocoa powder

1 teaspoon baking soda

1/2 teaspoon salt

1 1/2 cups all-purpose flour

1 cup brown sugar (regular sugar works as well)

1/2 cup canola oil

1 cup cold coffee or water

1 cupcake pan

cupcake liners

2 tablespoons white or apple cider vinegar

2 teaspoons pure vanilla extract
Instructions for the cupcake
Preheat the oven to 350 degrees

Line cupcake pan with cupcake liners

Whisk together flour, sugar, cocoa, baking soda and salt

In a separate bowl, whisk together coffee, oil, vinegar and vanilla

Pour the wet mixture into the dry mixture and whisk until just combined

Fill the cupcake liners with about two-thirds full of batter

Bake for 16 – 18 minutes,

Insert a toothpick after the time alloted time in the center of the cupcake and if it is clean it is done. If not bake for around two more minutes

My sister's tenacious efforts to remove dairy and meat from my diet leads to her trying very hard to make vegan recipes that my picky mouth will enjoy. These chocolate cupcakes do the job and they're a win-win; I get delicious cupcakes, while my sister slowly convinces me into become vegan.
About the Contributor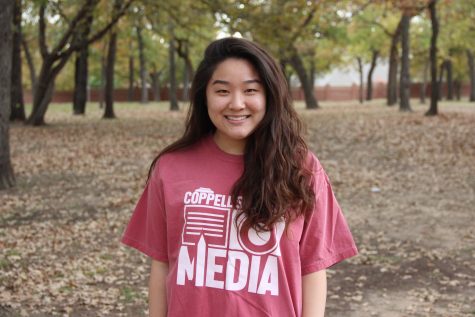 Lina Pyon, Social Media Manager
Focused on the future and the opportunities that the world contains, Lina Pyon enjoys spending time with the important people in her life and broadening...