Paschall, Gaither lead charge in doubleheader rout, district championship
With a three run lead in the second inning, Myles Paschall dug into the box, swung and launched a ball well over the left field wall. With his first of two hits on the night, the senior outfielder watched the ball sail into the parking lot, breaking the game open for the Cowboys. It set the tone for the doubleheader in which Coppell (27-1 overall, 11-1 District 7-6A) defeated Haltom (5-20, 1-11) 10-0 and 12-1.
In addition to the two-run bomb, Paschall recorded a double and two more RBIs on the night.
"It was a good feeling," Paschall said. "Seeing the ball well and having good at-bats is what we're trying to do. Hitting a homerun is always good."
Senior pitcher/infielder Ray Gaither also recorded an extremely solid night at the plate. He finished with two triples, a single and four RBIs, going a combined three for five at the plate.
"I was seeing the ball real well and I was just waiting for my pitch." Gaither said. "I put a few good swings on them tonight."
Overall, the Cowboys put up a stellar performance at the plate, recording a total of nine extra-base hits and drawing plenty of walks.
"It helps the hitters because this game is so much about confidence," Coppell coach Kendall Clark said. "It's hard to get hits and it's hard to square the ball up, but they hit a lot of balls hard tonight.
"Hitting is so much about how you feel about yourself. When you have a good night, you feel great about yourself, and that will carry into next week's playoff series. For all of them, they all had a pretty good night. They're going to go into the first round of playoffs with a good feeling and confidence."
On the mound, the Cowboys' top two starters, Gaither and senior pitcher Charles King, both drew attention from the swarm of major league scouts for good reason. King threw four scoreless innings, recording allowing two hits and not walking a batter. Gaither, while he walked two and hit a batter, struck out nine and allowed only one hit.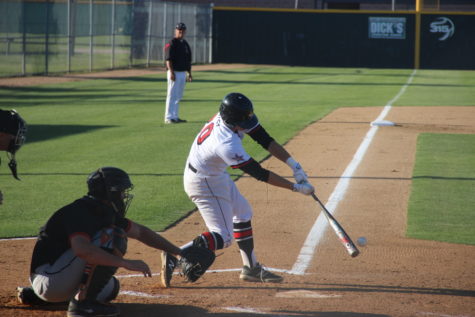 "It's good for us and not good for our opponent to know that we're that deep," Clark said. "Most of the time, somewhere in there you feel like there's a guy you can hit. We don't have that guy."
Finishing the regular season with the two big wins, the Cowboys captured the District 7-6A championship, losing only one district game.
"It's big," Gaither said. "Last year, we tied, and sharing it was a bummer. That is something we've been striving for for a while because we've been so close over the years, so it's a big deal to us."
However, for a team with expectations as high as this one, the district championship is only a small step in a season that has dreams of a deep playoff run.
"It was one of our goals," Clark said. "It was one of the smaller ones. We want to get to the state tournament and we want to win it. But certainly there are little steps that go to that, winning the district is one of them. Advancing each week in the playoffs, then making the state tournament and winning twice is what we want to do."