Fans see stars when Meyer comes to town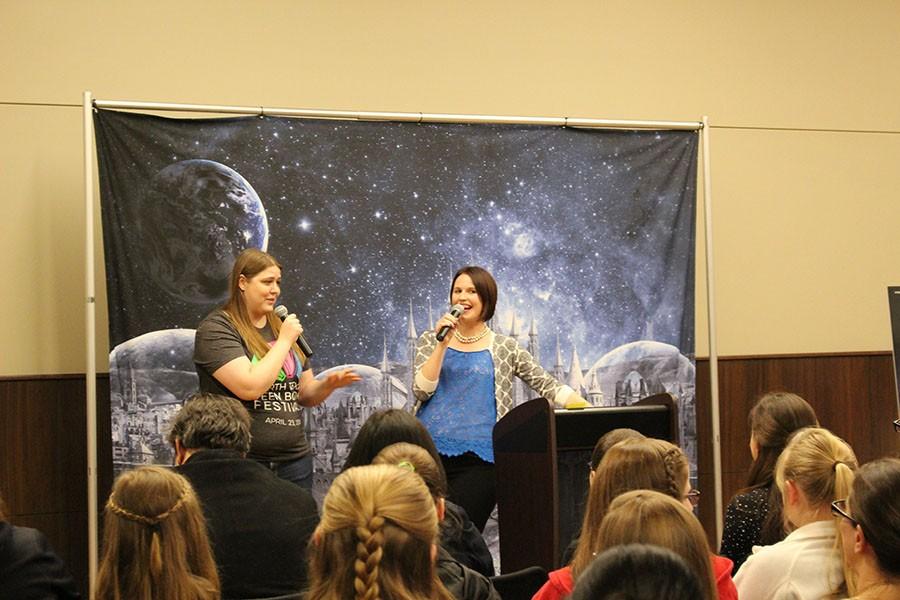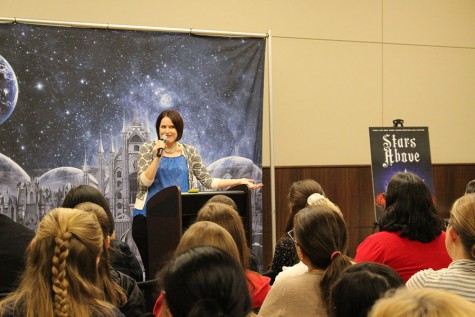 The door slowly opens, and a familiar face walks out. The crowd breaks into song, belting out "Deep in the Heart of Texas."
New York Times-bestselling author Marissa Meyer came to the South Irving Library on Feb. 6 to celebrate the release of her short story anthology, Stars Above.
Meyer discussed how the anthology came into being. Originally, she wrote Glitches, a prequel to Cinder to garner hype for her first book. Her publisher Feiwel and Friends continued to encourage prequels with Scarlet. Carswell's Guide to Being Lucky came into being because of a want to follow the backstory of Carswell Thorne, the handsome and witty pilot of the 214 Rampion.
And the ninth story Something Old, Something New?, was originally supposed to be published in Winter but was ultimately cut because the characters were always running for their lives and did not have time for marriage.
"[Writing the wedding] was like wish fulfilment. I felt like I was writing fan fiction," Meyer said. "Cutting it out wasn't easy. It's like fighting yourself. Your brain tells you to cut it out, but you don't want to. You have to look at it like this: what is best for the book?"
Meyer has gained lots of fame from her series. Different people have read her books including author Meg Cabot and actress Felicia Day.
But everyone has to start somewhere.
"I started writing because I loved books. I read them a lot as a kid. I have an overactive imagination and had stories in my head," Meyer said.  "I started to write them down and when I found out that you could get paid for making things up, I knew I wanted to be an author."
Meyer announced that she has many projects in the works like A Tyranny of Petticoats: 15 Stories of Belles, Bank Robbers & Other Badass Girls, a short story anthology following 15 girls all across America and their adventures, and Heartless, the prequel to Alice's Adventures in Wonderland.
Do not fret if you feel like The Lunar Chronicles ends with Stars Above. Meyer is working on a graphic novel that focuses on Iko, the amiable android friend of Cinder's. Yet Iko, unlike some characters, has an interesting story behind it's creation. Cinder was created in a dream recreation of Cinderella, but instead of a shoe coming off, the princess's foot came off. Meyer awoke and immediately her imagination raced to create a world with this idea.
"I thought, 'Wouldn't it be cool that instead of mice friends, Cinder had android friends?'" Meyer said, and Iko was born.
Other than a discussion and a question and answer session, the event had lemonade and book themed cupcakes.
A special treat was the mobile planetarium. A librarian brought you into an inflated tent while a projector cast the stars across the dark interior, sending you into outer space. The librarian continued to discuss the constellations.
Overall, the event was enjoyable, though crowded and hectic, it was a great opportunity to meet Meyer and hear her thoughts about different topics.
About the Contributors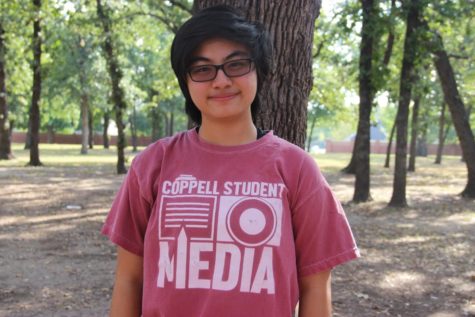 Wren Lee, Executive Design Editor
Wren is a senior. She moved here from the Land of Disney: Orlando, Florida. Yes, she went to Disney a lot. Yes, she has been to Universal. Wren adores...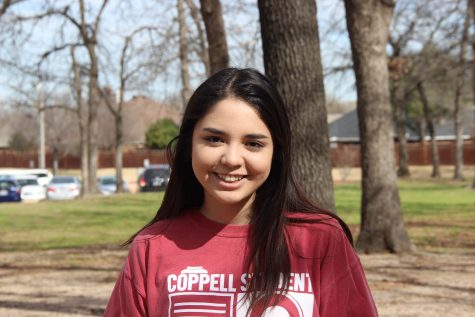 Kelly Monaghan, General Photography Editor
Kelly is a senior at Coppell High School and the General Photography Editor of the Sidekick. She is an expected diploma candidate in the International...