Book review: Eat Pray Love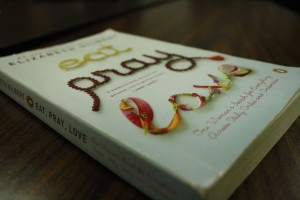 by Melissa Brisco
Staff Writer
I am generally not a big fan of autobiographies. Normally, I find them boring and I quickly lose interest. However, Elizabeth Gilbert's Eat Pray Love is one of the best books I have recently read.
Eat Pray Love tells the story of Gilbert's life after divorce and another  heartache and her miraculous journey through three countries on her journey to recovery.
In her early 30s, Gilbert seems to have it all. She is a successful journalist, she is married to a good man and the couple moved to a new, large house in the suburbs in preparation for creating a family. Gilbert's life has been traveling full speed ahead until one night when she collapses on her bathroom floor and realizes starting a family is not what she wants and that her marriage with her husband is not working out. Lying that night on her bathroom floor, Gilbert realizes that her life needs to completely change and she can no longer go on living her life the way she has been.
Fast forward through a grueling, nasty divorce and a passionate, rollercoaster love affair with another incompatible mate to where Gilbert is at her very lowest. She decides she needs to get out America and she devises a plan for her healing.
Gilbert decides to spend one full year traveling. She first will go to Italy. Gilbert has always loved the Italian language and decides to make that her first stop and realizes this emotional journey is not one she can endure alone. Then, Gilbert makes an Ashram in India her second stop.  In Bali, Gilbert's third stop, she hopes to find a balance between passion and prayer.
Gilbert writes the book so fascinatingly that, at times, it is easy to forget this book is an autobiography rather than a fiction bestseller. Gilbert inserts her own opinions at times, mentioning former possible titles of the book and how she appreciates the irony of certain situations.
There are a few parts of the book which are a bit harder to read, some being when she is Italy and learning Italian, and mentions a few phrases that can be difficult to remember throughout that section of the book; also when Gilbert is in India reciting her prayers in Sanskrit. But overall, the book is a pleasure to read and it is easy to get lost in the text and feel as if you are dining in Naples or praying at the Indian Ashram or meditating in Bali with the medicine man.
Eat Pray Love is a raw story of Gilbert's healing and journey around the world, and I highly recommend it to any readers. There is faith, adventure, passion, romance and every other emotion in this book.