Fall choir concert sets tone for school year
By Farah Merchant
Staff Writer
The stage was set, stands were aligned, and the piano was occupied and ready to be played, in the auditorium at Coppell High School on Oct. 8, as Joshua Brown, CHS choir director, got up and began to talk about the achievements of choir.
As he talked, Madrigals began to fill the stage ready to perform beautiful, harmonized music.
The first song of the choir show was "Throw Open Your Shutters", starting with a deep oh before immersing into beautiful words. The song is "a traditional piece" and is one of Brown's favorite songs. After the piece the Madrigals sang another song called "A Loving Heart to Thee" which was much slower and was by a Texas Composer, Robert H. Young, before the mic drifted to Brown.
The program continued with Bella Voce who sang a short piece called Alleluia and a beautiful song "Pur ti miro" which translates to "I delight in you. I am bound to you. Oh my life. Oh my treasure. You are my hope. Say it always. You are ever my idol. Yes! My beloved. Yes! My heart. Yes! My life."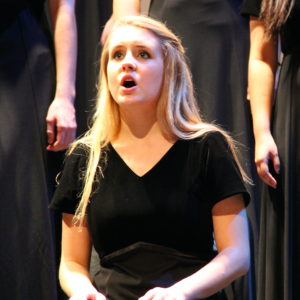 The stage then shifted to Men's Choir, whose last song "Cover Me with the Night" was short and upbeat compared to their "Sing to the Lord" which was slow.
The concert continued with Kantorei who sang "Turn Around" and "There Will Come Soft Rain," whose video is underneath. And then moved to A Cappella, who not only performed at the Fall Concert at the CHS auditorium, but on Oct. 6 also performed at UT-Arlington with its A Cappella group.
As A Cappella took the stage, Brown started talking about how far the A Capella group has came and congratulated them on how beautiful their voices were on Oct. 6. The group began with a German song, "Frohlocket, ihr Völker auf Erden" before moving to "Ruth" and "On My Journey Home".
"I sang On My Journey Home last year and it was really fun and so singing it again was really fun," CHS senior Natalie Lopez said.
The concert ended when all the people who participated in All-State took the stage and sang "Zadok the Priest".
Though the songs were beautiful lots of preparation was placed by the choir to make the concert sound the way it was.
"The concert went well, but that's also because we've been working our butts off since day one to create meaning in music that will move the hearts of the audience," CHS junior Veronica Nguyen.