"Fame" performance to showcase years' work of talent; last chance for some seniors to be in the spotlight
By Kara Hallam
Enterprise editor
@KaraHallam
This Friday and Saturday at 7:30 p.m. in the auditorium is one of the very few chances left to see some of Coppell High School's drama stars perform before they graduate. As the 2015-16 school year comes to a close, the Dra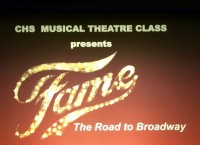 ma Department has a busy schedule ahead of them, including it's May 1 and May 2 "Fame" show performance, which includes a variety of numbers from different musicals.
"It'll be the last time some of those kids are on stage and the "Fame" show is just a lot of fun, a lot of music, dancing, singing and just a great opportunity to see the triples threats; the kids who can dance, sing and act," drama department head and "Fame" class teacher Lisa Tabor said.
The "Fame" students have spent all year learning musical skills and this is their chance to showcase them. Tickets will be sold at the door for $5.