By Alexandra Dalton
Staff Writer
@alex_dalton04
With a premise of a 40-minute play about a single day in Venice in 1753, nine Coppell High School student actors were put to the ultimate test when asked to perform for the first time in front of a live audience, only days before their University Interscholastic League One-Act Play competition on Saturday.
The category of their performance, commedia, was written to appease the masses but also strike a chord by representing the social and political injustices of the time. With UIL standards, the cast must do all of this and within 40 minutes, without any on stage queues of their time.
As the crowd quietly waited, the cast and production staff arranged the set with full view of the audience, to give an authentic representation of the show to be performed in front of judges. The curtains closed and after a few short minutes opened again, showing the heavy makeup and emotion on the shining faces of Silvio Lombardi played by junior Sunny Ananth and Clarice played by sophomore Erin Jordan, professing their love.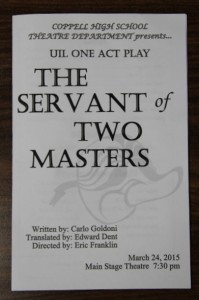 Nerves by the cast were subtle in the first minutes of the performance as it is made clear that Clarice was promised to another, Florindo Rasponi, who may or may not be actually deceased but is represented by the secretly female Beatrice Rasponi (sophomore Natalie Weix).
Humor brings this stirring plot to a comfortable laughter in the audience as Truffaldino (junior Preston Straus), the servant of Beatrice Rasponi and her secret love Florindo Aretusi (senior Josh Martin). Straus provides pivotal insight to the life of a servant at this time with his fear of punishment and manipulation of his confused masters.
As the play continues the cast revel in the reaction of the audience, making their witty facial gestures more dramatic with confidence. The play does manage to shed light on its main objective by representing the poorly treated servants, who are wear masks in the play, remaining faceless even with personalities as huge as Truffaldino's.
"If great comedy is truly about the shared experience then what better way to help people to understand these issues," director Eric Franklin said. "After all, who hasn't felt overworked, or that they have to pretend to be someone they are not to get ahead in life?"
The comedy will be judged based on the word for word translation of the script by the cast, allowing only 10 words to be misplaced. Harsh competition lies ahead for "The Servant of Two Masters" cast, but with a live audience performance behind them and all previous notions of awkwardness lost, the cast is sure to make a shocking entrance into the competition for UIL.