By Alexandra Dalton
Staff Writer 
Walking into the quiet black box theater, the authentic commentary from the determined student actors creates a feeling that I am really in 1989, and that prom night is being celebrated by my whole class. The play starts as Mr. Snelgrove played by sophomore Justin Sharma, the principal of the school, announces the school rules for prom, including no dirty dancing and no smoking– rules which can bring any student back to their homecomings in an instant.
"The Awesome 80's Prom" transitions into the introduction of the prom king and queen nominees, declaring a nerd, a loner, a jock, a foreign exchange student and class president as the king nominees while the cheerleader, a drama queen, a Swedish girl, a gay boy and nerd are selected as queen nominees. This diversity in characters brings a live Breakfast Club vibe that you and your friends can enjoy.
Ultimately the crowd will decide the fate of that decision, but they will also learn more about each character as well. Including the audience is not typical for most plays, and the inclusion in this one envelopes the audience to the plot line displayed before them.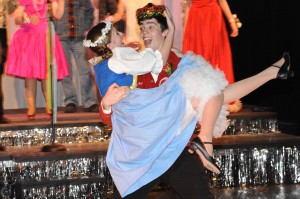 "It was interesting, it's not typical and it was fun to talk to and see the audience," hair and makeup stylist junior Rebecca Burak said. "Normally we don't get to bring down that fourth wall and it was fun to see people interact."
The play includes a myriad of differing characters, all that are extremely relatable to the attentive listeners of the crowd. The set includes dining tables to increase the feeling of authenticity, and when the cast is not on the dance floor or having one big display of action, characters show their own plot lines to individual areas of the audience, displaying the incredible acting of the program.
Unlike any other play I have ventured to before, "The Awesome 80's Prom" promises laughs as well as surprises.
"I did not expect it to be so realistic," senior Monica Batra-Shrader said. "The character improv was amazing and so in tune with the plot."
Warning to the introverts interested: It is important to not be the person that gets uncomfortable by the interaction and to just go with it. People have a more entertaining time if they do not feign awkwardness when spoken to by a cast member.  I let myself get into it, keeping in mind that it would be way more enjoyable if I laughed at the detention slip given to me by the principal for a short skirt and danced with the foreign exchange student who asked.