Kalina scores role in one of the most anticipated movies; "That's What I'm Talking About"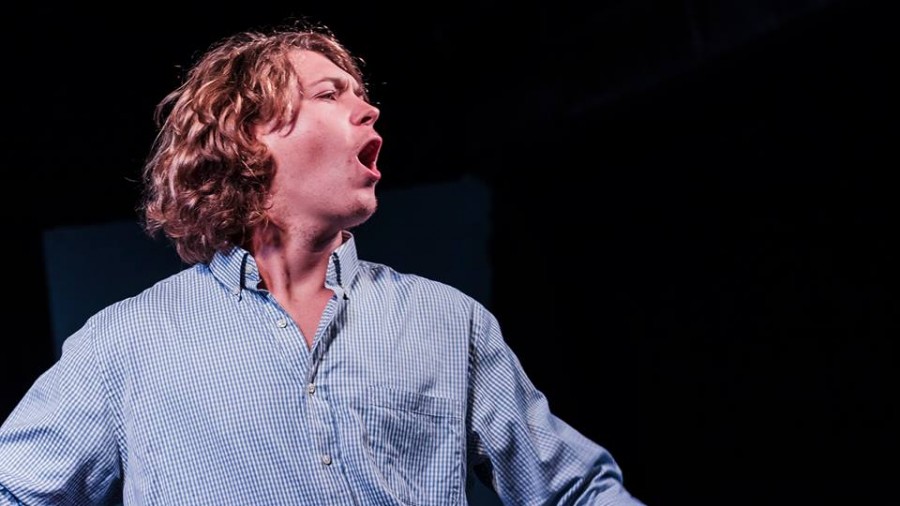 Video by Mia Ford
By Sloane Samberson
Staff Writer
@sloane_avery
From a young age you are asked "What do you want to be when you grow up?". A doctor, a teacher, a firefighter or maybe a vet.
There were endless options for what you wanted to do, and had the potential to be when you grew up.
It is not often that what you wanted to be is what you were really destined to do, but for University of Texas at Austin student and 2010 Jesuit graduate Tanner Kalina, his passion for acting came full circle.
"We first noticed he had a passion for acting when he was very small," mother Tina Kalina said. "It was in second grade when he tried out for a part in the Coppell Community Theatre. When he went in I said 'Don't worry if you're just a tree', but when he came out he had gotten the lead part."
For two years, Tanner's acting career only excelled. He continued acting at the Coppell Community Theatre with lead parts after every audition, until he figured out he could play baseball in fourth grade.
"Baseball was my life," Tanner said. "I'd spend every waking hour thinking about baseball, working on baseball, talking to baseball. Wait, I never actually talked to baseballs but if I could have I would have probably married one. That's how intense I was about it."
Tanner was recruited for college baseball as well as scouted by some MLB teams. He also had the physical tools to help him play pro baseball.
"When playing on the field, I wasn't that strong in the head," Tanner said. "I let a lot of things get to me and I played with too much emotion. I'd either be the guy making diving plays and getting his teammates fired up or the guy throwing helmets across the field after striking out and yelling expletives."
Although baseball didn't work out, Tanner still has a love for it, just in a different way.
"I wouldn't marry a talking baseball now, just take it on a nice dinner date," Tanner said. "I'm a boss at anything and everything dealing with fantasy baseball."
It is even prevalent to Tanner's family that acting was the right choice for him.
"I really believed that Tanner could've made it big in baseball, but with acting I truly believe he'll make something out of this," Tina said. "His passion for acting, is different from his passion for baseball. His passion is just natural with this."
All of the Kalina family supports Tanner's acting career, even when his ideas seem far-fetched and wacky.
"I support Tanner by just letting him be him, because he is a very original character," sister and CHS freshman Victoria Kalina said. "I think that whatever he does, he is going to do it very well."
Tanner is a part of the Radio Television Film Department at UT, where he is working towards a film degree with a specialization in screen writing.
"Not to toot our horns, but UT's RTF Department is top 10 in the [country]," Tanner said. "It is incredibly competitive, because everyone is really good at what they do. Everyone is very creative and supportive of one another. It is a great environment to be in, to get your feet wet and start making stuff."
He has gotten to play an over-flamboyant waiter, a dim-witted cowboy, and an anger-management-needing-medieval-times-actor in student thesis films at RTF. Tanner has also starred in an award-winning web-series about three struggling artists and their messed up love lives.
"[As of] right now, I am writing, producing, and starring in my own sketch comedy project with the A-listers of the UT RTF program," Tanner said. "Check it out this summer!"
It was almost as if Tanner was destined to be a part of film That's What I'm Talking About when he came across an online casting call at random. He had the humor, the looks and the experience to back him up.
"I took some posed photos of myself and submitted them to the casting call," Tanner said. "A few weeks later they contacted me saying that they liked them and that I should come in for an audition. I was beyond excited."
Tanner went through four auditions before he got the part.
That's What I'm Talking About is directed and written by Richard Linklater. Linklater recently won a Golden Globe for Best Motion Picture of 2014 and Best Director for Boyhood.
Linklater was born in Houston but moved to Austin when he wanted to begin studying film. He studied film at Austin Community College and created the Austin Film Society. AFS was founded to exhibit independent, experimental, foreign and various other non-mainstream art films.
"This has just been the opportunity of a lifetime," Tanner said. "Working with one of the legends of our time, definitely Austin's biggest legend. Also working with some great actors who take their art seriously, who put their heart and soul into their work."
According to IMDb, That's What I'm Talking About centers on the lives of baseball players on and off the field. The plot is currently undisclosed.
"I can't say much about the movie, but that you'll be smiling in every second of it," Tanner said. "You'll leave the theater feeling good about life and your place in this world."
The Examiner has ranked That's What I'm Talking About second out of the 15 most anticipated movies of 2015.
"Knowing that the movie is ranked so highly makes me even more excited, but also equally as cautious because there is more attention to it," Tanner said.
Once Tanner finishes his finals and graduates in May, he will move to Los Angeles to further pursue his acting career.
"I'm very excited, I really can't wait," Tanner said. "I don't even want to go back to school I'm that excited, but in respect of my parents and their wishes I am adhering to them. It's also a little scary because it's a big grind out there and I'm just trying to prepare myself for a lot of failure."
For Tanner's family they are very excited for him to start pursuing his dream in Los Angeles as well as they are scared for the failure he will face.
"I'm such an optimistic person, that all I see is a vision of furthering the dream," Tina said. "It is going to be really shocking to me if it doesn't happen really quickly, but I am aware its not a patient field to be in. I just know and pray that one day Tanner will make it big."
You can keep up with Tanner on Instagram and Twitter @tannerkalina, and Facebook.