102.1 The EDGE gives the gift of music at annual Christmas festival
By Stephanie Alexander
Entertainment Editor
@stephanierose2u
GRAND PRAIRIE- The loudest Christmas party of the season was last night at the Verizon Theatre, held by alternative-rock radio station 102.1 The EDGE.
Cute little snowmen made out of white Christmas trees stood upon the amps on each side of the stage and above the stage hung rows of garland and tinsel. The EDGE hosts came out in between bands to greet the audience and hype up the crowd for the next band.
The 13th annual How the Edge Stole Christmas featured a wide variety of fans. The lineup of the night featured Bad Suns, Big Data, Walk the Moon, Bleachers, Young the Giant, Rise Against and Weezer.
Overall the night was a fabulous experience, but there were some moments that were not so fabulous. It felt as if almost a concert roller coaster, very energetic highs and the lows were spent out in the lobby of the theatre walking around with friends.
The show started promptly at 5:00 5 p.m. with Bad Suns. This new Los Angeles-based band was a strong opener, yet only playing for about 20 minutes with hardly any crowd.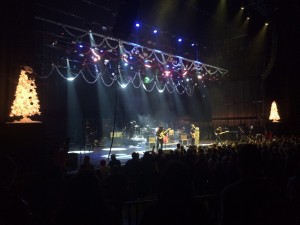 Big Data was, for lack of better words, awkward. It did an unrecognizable cover of Hall and Oates' "Never Let Me Go" and that was our cue to go get some water from the lobby.
I immediately bought my ticket when I heard Young the Giant was performing, and was surprised when Walk the Moon was announced just the week before the event.
Walk the Moon's set was almost too short, but nonetheless sweet. It played two songs from its newest album Talking is Hard, which was released the day before concert, and of course ended its set with the song that got them to their success, "Anna Sun". It was a very intimate performance.
Bleachers reminds me of a B list 80s movie soundtrack, not only with its music, but with its outfits too.
Young the Giant did not disappoint. It was my second time seeing the band live and even though it played a shorter set, it managed to take my breath away more than its show at Southside Ballroom in February.
Rise Against seemed out of place for this event, possibly more fit for a 97.1 The Eagle. It had a cool set up and I was about to give them a chance but it was honestly just too loud and I did not feel like being screamed at.
The moment Weezer opened with "My Name Is Jonas", I realized why they were the main headliners of the night. Weezer rocked the night and I was pleasantly surprised by its welcoming stage presence and playful banter with the audience. Looking around the crowd during Weezer's performance I did not see a single attendee sitting or not singing along.