Movies in the Plaza gets spooky with E.T.
By Chris Sheldon
Staff Writer
@ChrisSheldon911
This Saturday at Movies in the Plaza, a Halloween themed night will feature the childhood classic E.T. The Extraterrestrial. Everyone is welcome and the movie starts around 7:00 p.m.or at least when it gets dark.
Attendees are encouraged to dress up in their favorite Halloween costume.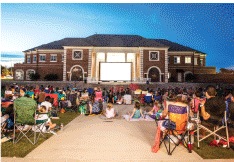 The event can be found just behind Town Hall in the plaza area. Those who wish to attend should bring a blanket, friends and tasty snacks before heading over. However free popcorn will be provided to any who attend!