One Direction provides electric atmosphere, bittersweet ending to summer at AT&T Stadium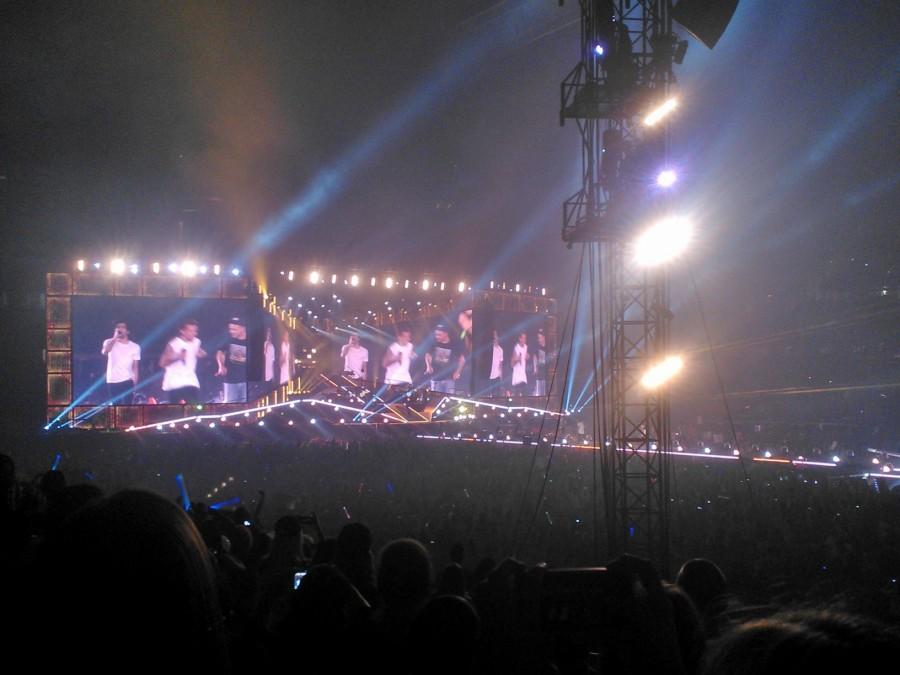 By Tuulia Koponen
Business/Public Relations Manager
@tuulipia
ARLINGTON – I am slightly hungry, my ears are ringing, my eyes are about to fall shut, my body has become sticky with dried up sweat and my makeup feels uncomfortably sticky as well. I am unfortunately reminded that it is 12:55 a.m. and that I need to be awake in six hours or less for my first day of senior year, but I could care less.
The One Direction concert at AT&T Stadium on Sunday night makes all this post-concert 'pain' worth it. It was truly a night to remember and not just for the fact that I got to reunite with one of my good friends I had not seen for a while until Sunday night.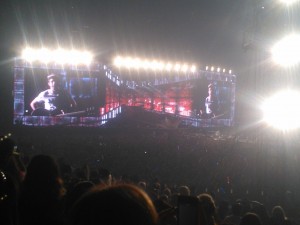 As the lights dimmed and One Direction's intro was played on the massive screens that made up a portion of the stage, the screams rang throughout the venue as expected. I am surprised I have not completely lost my hearing yet as the screaming was just so loud and excited and bursting with energy-a crazy, amazing sound to ensue from so many fans of the biggest boy-band in the world.
One Direction opened with the title song off its latest album, "Midnight Memories", with fireworks erupting at high points in the song and an exciting light show accompanying the performance. The vocals were seriously on point, and the crowd showed its approval as the screaming never ceased to end.
The boy-band displayed its usual charm of wanting to thank each and every member of the audience for purchasing tickets as well as continuously reassuring those at the tippy-top of the stadium that they were seen and could be heard cheering-loudly-along with everyone else.
Niall Horan gave his best attempt at a Texan accent that was actually quite convincing, Harry Styles managed to get some of the crowd and the rest of the band to sing "Happy Birthday" to a girl named Alyssa in the floor seating and the appreciation never ceased to flow as the boy-band continuously recalled that AT&T Stadium was the largest venue it would be playing on its North American leg of the Where We Are Tour and was one of the band's favorites
to play.
The atmosphere could be best described as electric and party-like. The boys played the upbeat songs with so much energy that the crowd absolutely relished in it and threw the same energy back at them with screams, singing at the top of their lungs, dancing as if they were truly at a party, and just having a really good time.
AT&T Stadium was a sea of shining lights during "Moments" as the crowd pulled out its phones and turned the flash on as Louis Tomlinson had instructed for the slow, heartfelt tune. It was a beautiful sight and something that just becomes ingrained in your brain for when else will you hear five attractive boys beautifully sing a song about wanting to be "your life, your voice, your reason to be" with a sea of glittering lights all around you to bring a soothing, romantic feel to the song? Probably never.
I joined in on the screams as Liam Payne questioned if Dallas was having a good time and if we were willing to pump our fists in the air to create the essence of a party during "Little White Lies" as well as just screaming my approval/appreciation for Zayn Malik's high notes and just overall the boy-band's ability to captivate the crowd so well.
My friend and I arrived at the stadium terribly close to 7 p.m. and for a while I was worried that we would miss the opening act, Jamie Scott, perform if we could not find our seats in time as the show was scheduled to begin at 7. Luckily, as my friend and I settled into our seats in the 11th row of section C132 Scott had not begun his performance and did not for a while.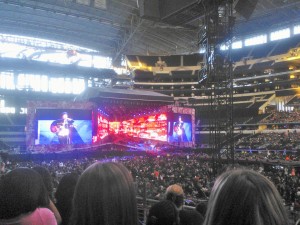 It was close to 7:30 p.m. when the show truly began, and Scott owned the stage as he performed a few heartfelt tunes with just him and his guitar. His vocals were spot on and he was able to captivate the crowd well even though it was his first time performing in front of a packed stadium.
He even managed to crack a joke when he responded "I like you, too" to a concertgoer who happened to express her liking for him. Scott's genuine gratitude for being able to open for One Direction was appreciated and made me like him more-even though he already had me sold from the moment he opened his mouth to sing.
A more or less 45 minute intermission followed Scott's performance in which the Macarena, "Dynamite" by Taio Cruz and "Party Rock Anthem" by LMFAO was played and got a good portion of the crowd out of its seats to dance and sing along in order to prepare itself for One Direction's performance.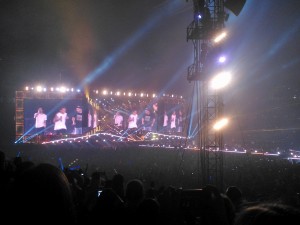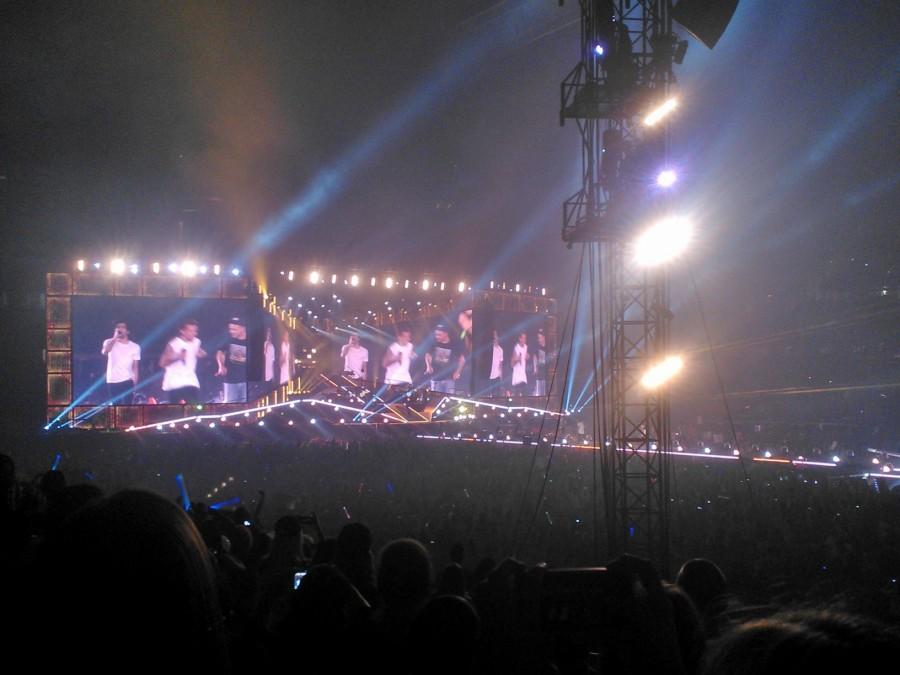 There was something strangely communal about dancing and singing loudly with other members of the crowd and hearing others belch terribly out of tune "I THROW MY HANDS UP IN THE AIR SOMETIMES SAYING 'A-YO, GOTTA LET GO!" just like me. I enjoyed it immensely.
My friend and I danced along to just about every song One Direction performed and just enjoyed our last evening of summer. Whenever the boys belted out the lyrics "She said, 'Hey, it's alright, if it makes you feel alive. Don't look back, live your life, even if it's only for tonight'" from "Alive", I could not help but think of it as the motto of the night.
For although it is now 1:34 a.m. and I need to get up at some point between 6 a.m. and 7 a.m. for my very first day of senior year, and I have yet to pack my backpack with all my necessities, I arguably lived my life Sunday night and it certainly made me feel alive – even if just for the night.