Senior theater students share plans for acting after high school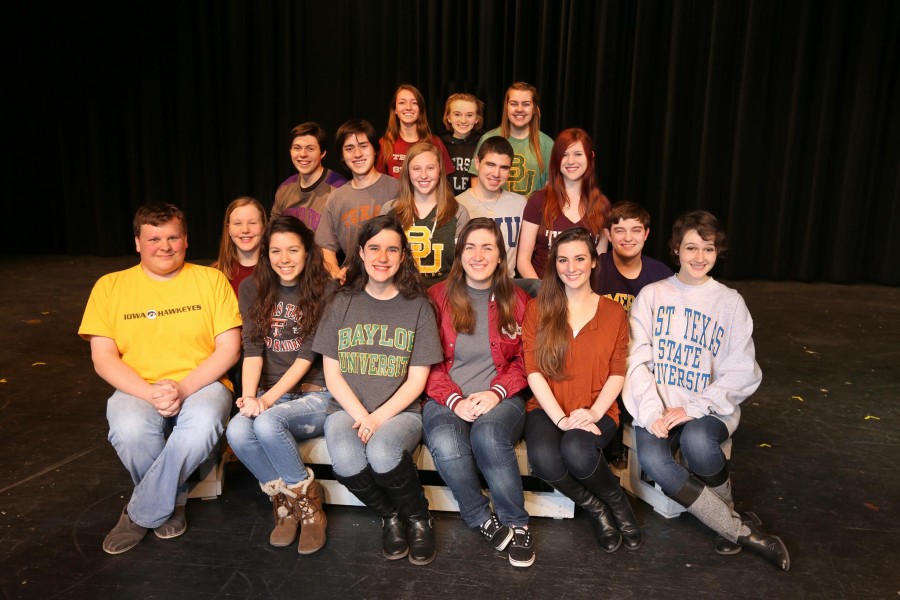 By Shruthika Pochampally
Staff Writer
Just like many of the clubs and programs at Coppell High School, the theater program will surely be shedding some tears at the end of the year when they let go of their beloved seniors, many of whom have been up on the CHS stages since their first day of freshman year.
"I knew I wanted to be an actress someday, so I decided that next year I was going to take a year off and try auditioning professionally," senior Kristen West said. "If I'm able to find work and enjoy being a working actress then I will probably keep doing that because that is my dream."
For many students who actively participated in theater throughout high school, acting for a living is a dream come true. For others, CHS theater has prepared them for the behind-the-scenes of showbiz.
"For college I am going the technical route because I want to do sound recording and technology," senior Saige Holst said. "I want to move to [Los Angeles] and work behind the scenes, but I still plan on auditioning for community theater. I have many big plans."
While many theater students plan on continuing to work in the acting industry, there are also some students who are leaving their memories of theater behind and taking on a different career path.
"I am going to the University of Texas at Austin into the College of Natural Sciences to become a doctor," senior Travis Chin said. "I love theater and I'm definitely going to continue doing community theater, but I don't feel like I could deal with the competitiveness [of professional theater]. I don't feel like I'd be good enough."
Senior Jack Hobbs, too, hopes to stay involved in community theater in college.
"I am going to Emerson College [in Boston] for journalism, but when I get there I do really want to be part of the theater program," Hobbs said.
Lisa Tabor, head of the theater department at Coppell High School, accredits the senior showcase, and most student theater showcases to the students themselves.
"Personally, it's not work for me," Tabor said. "I nudge them along the ways as to what they're doing. It's mainly all them."
The annual Senior Showcase is one of the most important productions for senior theater students, as they are allowed the chance to produce their own one-man acts.
"The seniors write, research and direct [the senior showcase]," Tabor said.
Seniors began preparing their acts from the beginning of the year, during their fourth period classes, and finally had the chance to display their acts to the audiences in April.
Regardless of what school or what career these students choose, they all admit that theater is what they will miss most about high school.
"What I will miss most about CHS theater is probably the family aspect of it," senior Emily McIntyre said. "Mrs. Tabor is kind of like our mother, she watches us like a hawk."
Senior Roberto Williams, who will attend University of Southern California next year, agrees.
"I am really going to miss the CHS theater department because there is such a camaraderie between the kids and everyone here is like a family," Williams said. "We all just want to succeed and watch the other people succeed as well."
The CHS theater department's tight-knit bonds are what make the program so enjoyable for every student involved.
"I know once I walk out that door after my last line in that last show, I am going to turn around and think back to freshman year when I first entered that stage," Williams said. "Before then I was kind of drifting around and now I've come into something where I feel like I belong. Everyone is so accepting; you don't have to put on a mask. Everybody knows you who are, everybody wants to be your friend."
Williams says that the roles he has played over the years become a part of him.
"I have played peoples' fathers, uncles and brothers, and then been husbands and fiances, and you keep those relationships, as weird as that may be," Williams said. "You keep the role of being a girl's father from a year ago, you keep the role of being this guy's brother, you keep the role of being a bunch of kids' uncle. Theres so much love and so many layers of it in this department."
With the senior showcase wrapped up and graduation within three weeks, many senior members of CHS theater have been reflecting on the past four years of their acting.
"[Senior Showcase] is a really good way for seniors to say goodbye," McIntyre said. "The seniors get a chance to go out the way they want to go out. It is a good way for people to see how far you have grown since freshman year."