Vivacé! to spark excitement with motley crue of tunes in "Everybody Talks"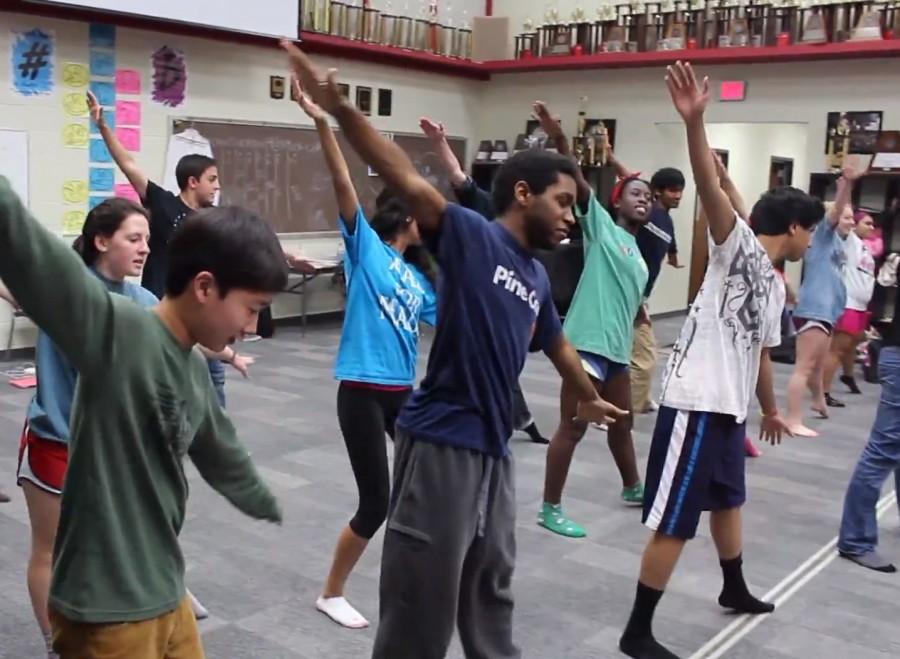 By Josh Martin
Graphic Designer
Singing and dancing may not come naturally to a majority of students at Coppell High School, but for those participating in Vivacé! possess these gifts.
The audition process consists of a performance of  song "September" by Earth, Wind, and Fire as well as the song "Jai Ho" which was performed for the directors with its own choreography.
"Throughout the whole audition, I kept comparing myself to the other guys, since the audition felt more like a competition than anything," junior Jack Sullivan said.  "It was kind of cool to do it like that, because it made me want to sing better and memorize the choreography more quickly so that I wouldn't fall behind everyone else. It kept all of us on our toes the whole time."
With the new group complete and rehearsals in progress, both old and new members are finding their place in the 24 member group. Vivacé! auditions took place on Dec. 18 for boys and April 1 for girls for this prestigious group.
"Vivace! is a different style of show choir than Respira and there's a different dynamic with both boys and girls," junior Jenna Bartley said. "Overall it's a really fun and encouraging group."
Despite being moved to a one semester elective, this group of students is working hard to make their May performance the best it can be. Vivacé! practices Monday through Thursday from 4-7 p.m. in the choir room. Some of the members also meet either during lunch or before or after school to rehearse the fillers, which are performed in between the main pieces of the show.
"We don't waste any time during rehearsals," Sullivan said. "Everyone is really focused and determined to improve as quickly as possible, and as a result, we've all made some really good progress so far. It's taken a lot of commitment, but it's been really rewarding, too."
Vivacé! is performing songs ranging from Lady Gaga to The Lumineers in its show next month. The group will also showcase songs from the 1970s as well as a variety of filler pieces.
"[Students] can be looking forward to new, fun and hip songs like modern dances. Like a happy, feel-good kind of performance," senior captain Wesley Szalkowski said.
The upcoming show "Everybody Talks" will be held on  May 30-31 at 7 p.m. at the CHS auditorium. They will also be performing at the choir Pop Show on May 19 at 7:30 p.m.
"I'm really excited for the show coming up soon," Bartley said. "We've got some great songs like 'Ho Hey' and 'Hello, Goodbye' with some awesome choreography. The show is starting to come together in practice and we can't wait for everyone to see it."