Students direct one-acts filled with emotion, humor
By Kara Hallam
Staff Writer
Saturday evening's night of one-acts began at 7:30 p.m. with "The Women of Lockerbie", an emotional drama, which was followed by another student directed dark humor play "Ground Zero Club."
Sophomore Claire Police directed "The Women of Lockerbie" and sophomore John Alberse directed "Ground Zero Club."
"It was weird at first to direct the plays. I was suddenly in the driver's seat and everyone was coming to me with questions. I am used to it bei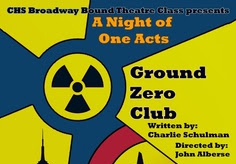 ng the other way around," Police said.
In the director's chair, Police and Alberse had to call all the shots. They were responsible for making the cast, set and other vital decisions that any director would have.
"I had a lot of support from John, Ms. Tabor, my other advisors and my cast of course. Having that support made it a lot less stressful," Police said.
"The Women of Lockerbie" takes place in Lockerbie, Scotland in 1995, seven years after the Pan Am airplane crash in Lockerbie. The women of Lockerbie are still mourning those lost in the crash and suddenly they find out the United States government wants to close the investigation of the crash by burning the victims' possessions.
The women, however, take action against this while describing the tragic events they have witnessed.
Madeline (sophomore Arianna Randell) is in search of a piece of her son although her grief consumers her and strains her relationship with her husband, Bill (sophomore Andre Banzon). Olive (sophomore Taylor Seals) leads the other women of Lockerbie to stand up against the U.S. investigation while secretly coping with losses of her own.
In stark contrast "The Ground Zero Club" takes place in the future in New York City at a time when the U.S. is at nuclear war with Russia. Sal Id (sophomore Reyaan Shah), takes his girlfriend Angela (sophomore Grace Lu) to the top of the empire state building to nonchalantly watch their lives end.  Here they meet others, who are not exactly happy about their lives coming to an abrupt end to the fault of the U.S. government but are not handling their looming deaths in a way in which would be considered normal.
The quirkiness of the characters highlights the dark humor of the show. For example when newspaper stand seller Tanya (sophomore Manu Garikipati) finds out New York City is about to be struck by a nuclear bomb, she has an "everything must go" sale at her stand as if it was just going out of business.
Both plays lasted for about 30 minutes, typical of a One-Act play. The Coppell High School drama department competes in many One-Act competition
s so these plays offered younger cast members the chance to gain experience before they get involved in the competitions to come in their later high school years.