Cowboys strike back, corral Grapevine 3-1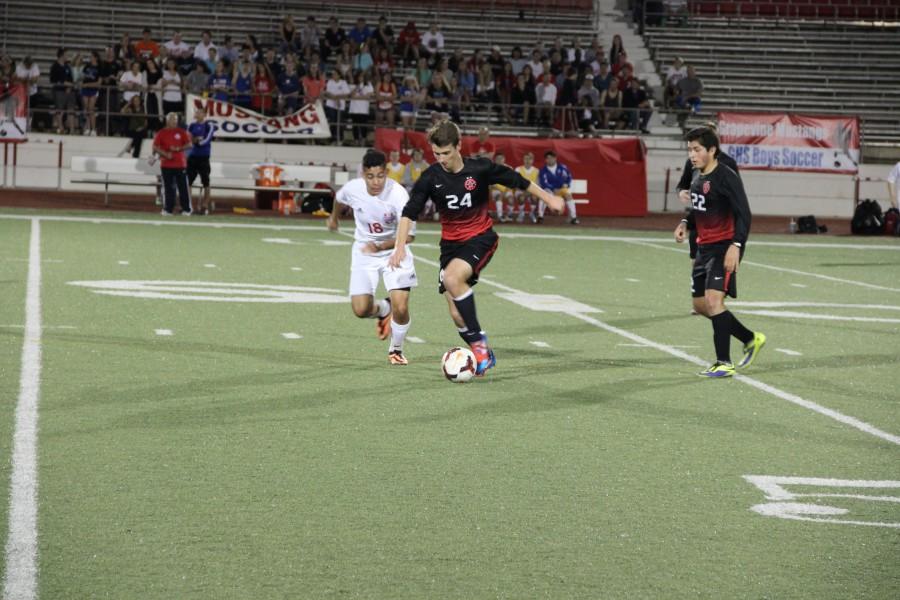 By Mark Slette
Staff Writer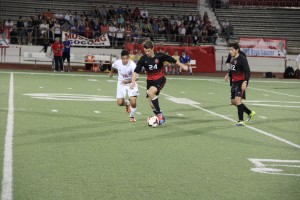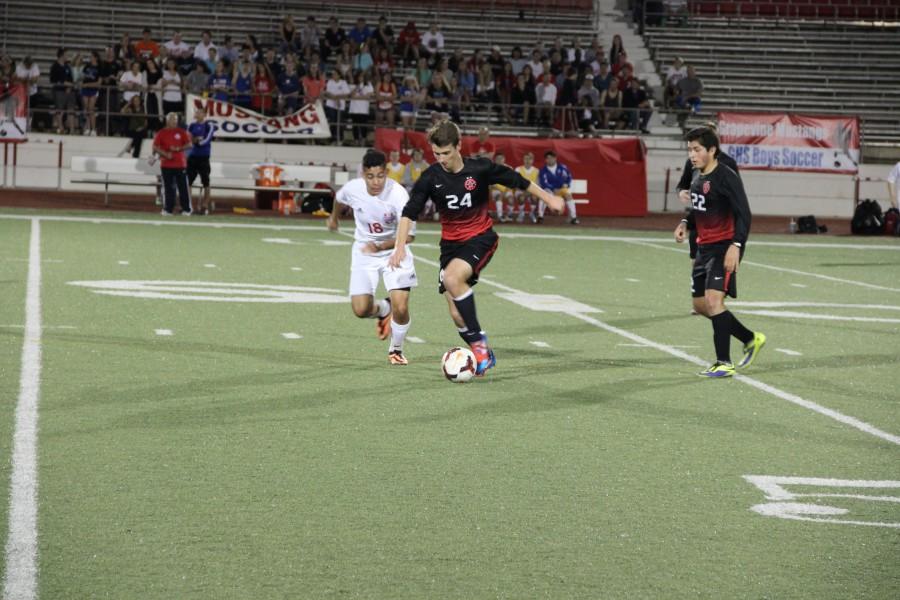 On a stormy night at Grapevine's Mustang-Panther Stadium on  Thursday evening, the Coppell Cowboys (19-1-2), ranked No. 1 in state, began its run to state taking on Grapevine (7-3-3) in the Class 5A Region I bi-district playoffs.
The only problem was the defending champs, were playing like a tale of two different teams.
Coppell will face the Mansfield Tigers on Thursday, Apr. 3 at Irving Schools Stadium in the area round.
The referee blew the whistle to start the first half, and Coppell kicked the ball off to start the game. But it was the Mustangs, however, who came out strong. With flat ball movement up the field and not being able to settle the ball offensively, the boys were not able to get any momentum going.
With about 29 minutes into the first half, Grapevine pushed the ball deep into the Coppell defense. With a lack of communication, and a confusion in the defense, Grapevine's senior forward Madison Dial floated a shot passed the reaching sophomore goalkeeper Eric Benenson.
With a couple of missed shot opportunities and some controversial calls, frustration filled the team's faces. The Cowboys finished the first half very quietly, holding the mustangs to one goal.
To start off the second half, the boys came out with much more intensity.
"The first half, our boys didn't want it," Coppell head coach Chad Rakestraw said. "We can't just march on in to any team's stadium and expect us to win. The entire team's got to want to win."
The team had passion in their feet. Communication downfield improved, making smart passes and taking good shots. The offense was executing as they posted a crooked number of three on the board.
Only seven minutes into the second half, senior forward Chris Madden and senior midfielder Jack Burns connected on a corner kick. Madden kicked the ball in to Burns, who passed back to Madden. The team captain launched the ball from the right corner of the penalty box into the goal.
"We needed that goal," Madden said. "It gave the team confidence and we were able to keep that same momentum for the rest of the second half."
Coppell's offense kept rolling, as senior forward Justin Todd added a score on a breakaway up field, making the score 2-1 in favor of the Cowboys.
For Grapevine, the mistakes seemed to pile on. Attempting to keep the ball away from the Coppell offense, sophomore Carl Leeds passed the ball to the Grapevine's goalie, Eric Williams. Not expecting the pass, the ball rolled past Williams into the net. Coppell took a commanding 3-1 lead.
The defense stonewalled Grapevine and ensured the Cowboy win.
Even though the Cowboys had a rough first half, the team prevailed and beat Grapevine 3 1.
"I hope to never see the first half team again," Rakestraw said. "We hung in there and worked together for the win. But we'll be working harder this week, in preparation of the winner between Belton and Mansfield."