"A Piece of My Heart" provokes emotional response from audience
By Kara Hallam
Staff Writer
Thursday night marked the opening of the Coppell High School Black Box play "A Piece of My Heart". The title stays true and as six Vietnam nurses on stage give a piece of their heart to a dying veteran it is if part of mine went out to this fictional scene as well.
"A Piece of my Heart" runs tonight and tomorrow at 7:30 p.m. in the Black Box Theater.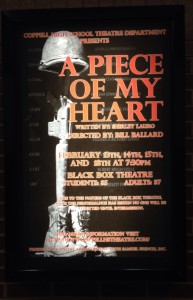 In the Vietnam War, more than 58,000 United States soldiers died and of those 11,465 were under the age of 20. Thanks to sponsorship by the National Vietnam Veterans program in the play of "A Piece of my Heart" in honor of the soldiers who died, the cast members wear dog tags of soldiers who actually died.
This play is emotionally unsettling as warned in the director Bill Ballard's note of the playbill.
"You are going to witness young people performing adult tasks. It is not only going to look disturbing, it is disturbing," Ballard said.
Although adult tasks, these students perform their characters incredibly well. I was astounded by the actual tears rolling down junior Sheridan Miller's (Whitney) face during her intense monologue after coming back from serving as a nurse in Vietnam.
"A Piece of my Heart" tells the story of six women who come to Vietnam, five of which are nurses and the other is a performer who sings for U.S. soldiers in Vietnam. Their time in the country is not at all what they expected and they are confronted with the harsh reality of the war. The majority of the time they fail to save their wounded patients who often have had limbs blown off.
Once they return from war, the emotional stress still haunts them and taints their daily lives. Be sure to remember the opening with a chilling montage of pictures of soldiers who actually died in Vietnam and a 21 shot salute for when the play ends and it will spark an emotional plot twist realization.
In the Black Box Theatre actors are boxed in by the audience and have a small set to work with. The eight member cast has to play multiple roles each even shifting from one character to another in a matter of seconds.
The emotion in this play is very real. Senior Roberto Williams (soldier) and Junior Nicole Rademacher (Sissy) stood out for there many screaming in anguish scenes. From anger to pain to sadness they could portray all very realistically and so convincing the audience would have to shift in their seats from the disturbance of it.
Senior Kristen West (Mary Jo)  carries the transitions through the play by singing simple but beautiful tunes. Her character, Mary Jo the southern singer,  by far was my favorite because she was so lively and friendly despite the odds.
All the cast members however despite their age were able to vividly perform their roles and fulfill the character.