Past meets present with Dickens classic
By Mary Whitfill
Staff Writer
Well known for being the Christmas hater and joy destroyer, is it fathomable for Ebenezer Scrooge to become a loveable movie character? Well, anything is possible for Disney digital 3-D.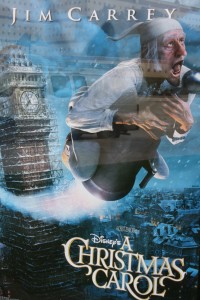 Disney's A Christmas Carol retells Charles Dickens' classic story in flawless animation. Famous grouch Ebenezer Scrooge (Jim Carrey), is taken on a journey of self – redemption, aided by three Christmas spirits: the ghosts of Christmas past, present and future. Each of the Christmas ghosts are also played by Jim Carrey. These Christmas spirits put Scrooge's own miserable existence into perspective and show him all of the wonderful opportunities that he missed in his childhood.
 The first spirit appears on Christmas Eve when Scrooge's past colleague, Jacob Marley (Gary Oldman), who died seven years earlier to the day, appears in his bed room. In the afterlife, Marley is forced to carry heavy chains and cinderblocks due to his greedy ways, and he forewarns Scrooge of a much worse fate if he does not change his similar actions.
The ghost of Christmas past arrives shortly after Marley leaves Scrooge's home, and takes him on a journey of all the Christmas' of his earlier life, revealing the reason Scrooge has such a hatred towards Christmas.
The third spirit, the ghost of Christmas present, shows Scrooge the happiness of his fellow men on Christmas day. Among these men is Scrooge's employee, Bob Cratchit (also Oldman), who is forced to get by on the next-to-noting salary Scrooge supplies him.
Scrooge is forced to learn that Cratchit has a sickly son, Timmy, who is not going to live much longer without the proper funds needed for his operation. Before the spirit leaves him, it warns him of the beings Ignorance and Want, displaying them as starving, disgusting children, doomed to grow into a miserable adulthood.
The ghost of Christmas's yet to come, the fourth and final ghost, shows Scrooge the implications of his actions. Tim Cratchit has died, leaving his family to mourn for him on Christmas, while Scrooge has also died, but there seems to be more comfort than grief in his death. The third spirit leaves Scrooge in his grave, begging for forgiveness.
The next morning Scrooge awakes in his bed and, full of relief, heads out to correct all of his sins. He donates money to the poor, makes amends with his family in time for Christmas, and raises Bob Cratchit's salary, allowing Tim to live. The audience is left to assume that Scrooge spends the remainder of his life correcting his wrong doings and living in the spirit of Christmas.
Disney did an excellent job of recreating the classic Christmas story and making it come to life before the viewer's eyes. With an excellent use of 3-D effects, the viewer is kept captivated in the Christmas magic while they watch the spirit of the holiday come to life on screen.
Although the story is visually appealing, the plot line of the story is blurred and it is hard to keep up with for those unfamiliar to Dickens' original masterpiece. Before seeing the movie I recommend reading at least a synopsis of the story so you will be able to keep up with the crazy effects and fast moving pace.
I highly recommend going to see the film for yourself if you are in the mood for a little Christmas spirit. With the holiday fast approaching, it would not hurt to see a version of an old Christmas story to connect the centuries of Christmas past.