Respira girls captivate audience with singing, dancing at Annual Dessert Show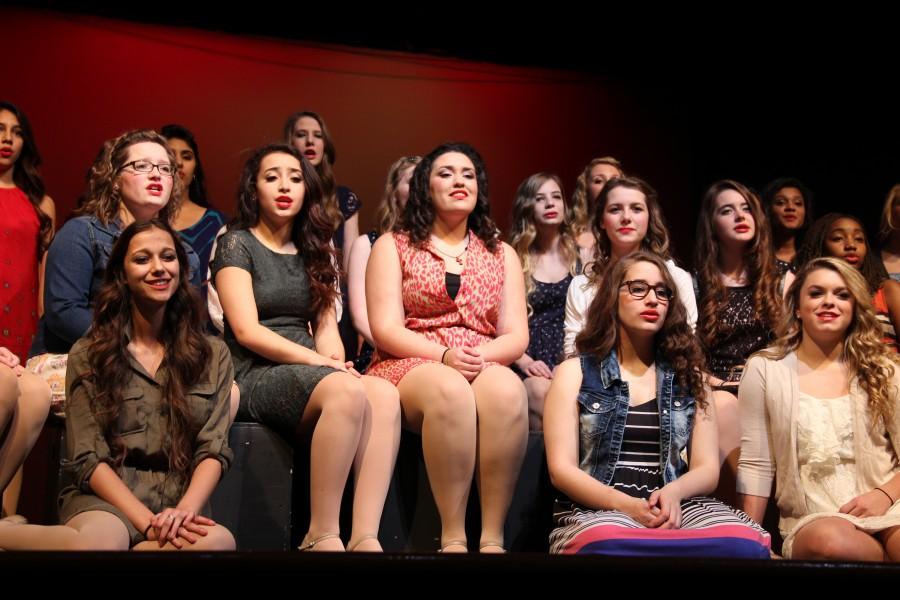 By Shruthika Pochampally
Staff Writer
Respira, the latest addition to the Coppell High School's group of choir programs, showed off its talent and proved itself to truly be a show choir, at the Annual Dessert Show on Nov. 7 and 8.
"I loved getting ready and dancing in the dressing rooms and being excited, and the girls are so fun to be around. We're like a family," senior Shivana Patel said.
The select all-girls show choir performed a variety of modern music and dance numbers, impressing their audience. Songs performed by the group included "It's Time" by Imagine Dragons and "Payphone" by Maroon 5.
"Although I was nervous, I think I did a good job in the show. Dancing and singing are two of my favorite things so the show was a fun thing to be apart of!" junior Jenna Bartley said.
In between each Respira number, CHS musicians came together to perform solos and duets. Highlights among the solos and duets included "Royals" by Lorde, performed by Natalie Lopez and Sarah Kate Lookabaugh, and "Skinny Love", originally produced by Birdy, which was performed by Sarah Shrimpton. A unique take on the song "Money" was also presented by students Morgan Hobgood and Maddie Straup.
"Mr. McLean is in charge of the show choir and does a great job of organization and communication," Bartley said.
Will McLean, who is the Associate Director of Choirs has lea Coppell choirs to various high ratings and awards, loves working with Respira.
"I loved the last number, One. The girls get to be girly and wear all their sparkly things,and Blackbird is all A Capella, it's all them," McLean said.
Respira, unlike other choir groups, involves dancing and singing, and many of its members will be returning for a second and even third year.
"I chose to do Respira because it is a joy to be apart of," Bartley said. "Dancing is one of my favorite things to do so taking part in Respira was a no brainer!"
Practice and preparation for the show was no easy task, as members were required to juggle school commitments on top of regular show choir practices.
"As a group we began preparing for the show two weeks before the school year began and since then we have rehearsed at least five hours a week," Bartley said.
Members of the group brought a dessert item of their choice to provide during the refreshments, including oreo cake balls, assortments of cakes and fruit cups.
"We all bring desserts for the refreshments, which is why it's called the 'Dessert Show', obviously," Patel said.
Respira is a family environment, and working together is something this group stresses immensely on.
"I love the girls, they get along really well, work hard, and they're respectful. They're fun to work with," McLean said
Bartley, who has been a member of the Choir programs at CHS throughout high school, is glad to have chosen to join Respira.
"The best part about Respira is the awesome group of girls that take part in it! Everyone is positive throughout rehearsal and our group is very close," Bartley said.
Bartley also admits she loves Respira so much she will do it again her during her senior year.
"I will most definitely be taking part of Respira next year and I hope to meet some new girls in it again," Bartley said.
"I'm just really proud of them," McLean said, who will be going with the group to their performances in Keller, Texas and MO in the spring of 2014, alongside their home performance.