Heartbreak in Birdville
by Blake Seitz
Sports Editor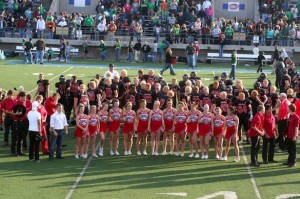 In what can only be described as a bitter defeat, Coppell lost to the Arlington Colts on a last second field goal, ending the Cowboy's historic playoff run. The final score was 31-29.
The first half of play was dominated by the Colts. After the Cowboy's first drive collapsed, Arlington's offense, led by senior quarterback Matt Joeckel, drove the length of the field to the Coppell one-yard line. After three consecutive stops on the goal line, Joeckel showed his prodigious ability (he has signed with Texas A&M) by lobbing a ball over the middle of a collapsing line for an Arlington score.
Coppell's second drive was just as impotent as its first. Two plays in, a tipped pass from senior quarterback Hayden Hawk was intercepted by Arlington linebacker Laderice Sanders.
One pretty pass later, Arlington receiver Jordan Davis skirted the left pylon to make the score 14-0, Colts on top.
The next few series were back-and-forth: just as Coppell's offensive players had taken the field they were back off it, as Hawk was stripped on a hit by Arlington defensive back Hardy Diggs.
Arlington's defense was threatening to score a third unanswered touchdown when the Cowboys finally caught a break—senior safety Jake Wohlford snatched the ball out of the air in the end zone and returned it to the 18-yard line.
Coppell couldn't capitalize on the turnover, however, and went into halftime on the tail of another Arlington touchdown, having put up only a field goal in their defense, 21-3.
The second half was a different story. Arlington's offense came out firing, and managed to build up a head of steam on its first possession, but was sent back to the bench after senior linebacker Josh Montgomery picked off a Joeckel pass and ran the ball to the Arlington 20.
Junior running back Cam McDaniel punched the ball in two plays later on an athletic, 20-yard run. McDaniel had 166 yards on the night, and two touchdowns.
Then, after a brief momentum shift in Arlington's favor, during which time they scored again on a long fumble recovery, Coppell came roaring back with two back-to-back touchdowns, the first by senior running back Brandon Donahue and the second by McDaniel.
A failed two-point conversion in the wake of the second touchdown left Coppell down by five with six minutes to go in the fourth.
On its next possession, the Colts tried to run the clock and play safe football. They were foiled, though, by another turnover, this one on their 18 yard-line. Coppell's stands shook with the sound of cheering for a solid twenty seconds of arm-flailing, leg-locked excitement.
Offensive mismanagement soon quieted the crowd, though, and left in its wake a concerned silence: Coppell was faced with a fourth and long from the Arlington ten. With three minutes on the clock, they couldn't afford another missed opportunity.
The Cowboys delivered, but not without help from Arlington. Two defensive penalties, one of them pass interference, kept the drive alive and gave Coppell another set of downs. They happily capitalized on the gift two plays later, as senior linebacker (and interim running back) Teddy Johnson pushed the pile for a one-yard score. Coppell was ahead by one following another botched two-point conversion, 29-28.
Arlington wasn't done yet, however. Joeckel rallied his troops and drove fifty yards in quick succession, motivated by the ticking of the clock.
With two seconds left to go, Arlington spiked the ball on Coppell's 15-yard line.
The resulting field goal—nearly blocked by junior Tyler Landis—flew straight and true, shattering Coppell's hopes for a longer postseason. The final score was 31-29.
In a way, the game's end was fitting for head coach Joe McBride's dogged, hard-charging squad: they went down in a blaze of glory, in a shootout worthy of Texas fame.
It is clear that McBride feels similarly.
"It hurts pretty bad because of the circumstances," McBride said, "but I'm so proud of our kids for how they didn't hang their heads; how they battled back and took the lead."
As the 2009-10 season wound to a close, it was a time to reflect for the senior athletes.
"It feels great to know how far we went," senior linebacker Patrick Hogan said. "It's nice to have left our mark on Coppell football."
And leave a mark they did. With Coppell's two wins over Keller and Plano East, they advanced further in the playoffs than ever before in 5A play.
McBride thinks it is a point of pride, and something to work off of in the future.
"We were supposed to finish 5th in district—we far exceeded that," McBride said. "I'm looking forward to seeing these kids again and building off of what we did here."
Photos by Katie Quill