Sandfort family safe following scary Boston experience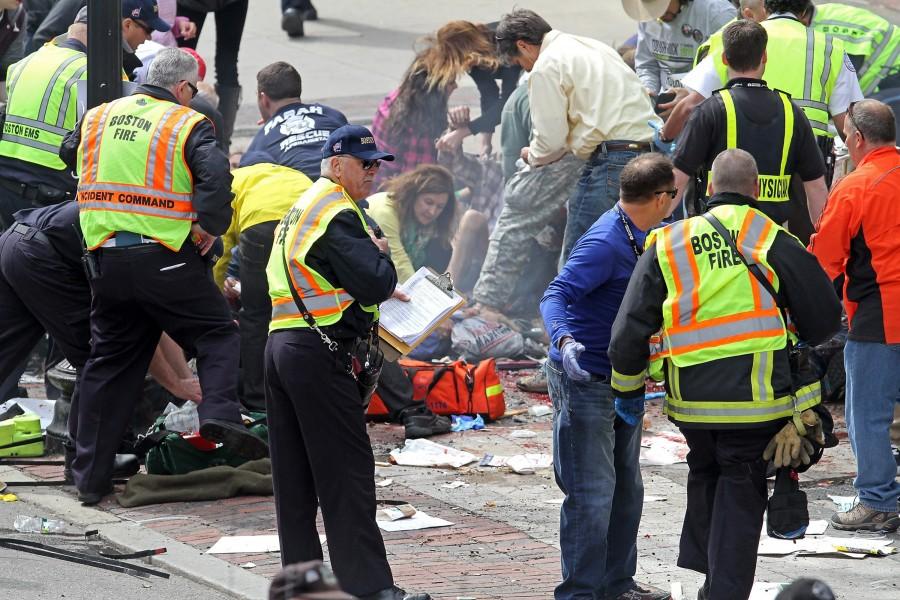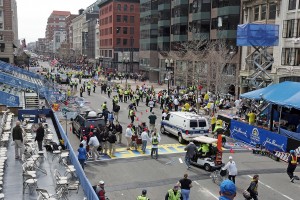 By Addy Buigas-Lopez
Business Manager
Over 27,000 athletes participated in the 117th Boston Marathon today after months of physical training only to reach the finish line with the shock of their lives as the explosion of two bombs cut their celebrations short.
Police officers and the SWAT team swept the area after cancelling the marathon and locking down all local bars and restaurants. Currently, two fatalities have been reported and about 100 people and counting are being treated in local hospitals, several needing amputations.
Senior Katie Sandfort was in Boston to cheer on her father J. D. Sandfort who was running in the marathon.
"[When the bombs went off] we were already walking back towards our hotel after meeting at the designated area about a block away from the finish line," Katie said. "First we heard the sirens and noticed our cell service was really bad. When we checked the news we saw what had happened."
Reports from the Boston Globe and CNN indicate that the first bomb detonated around 2:50 p.m. with a second bomb, about 100 feet away, following it 10 to 15 seconds afterwards. Police and emergency technicians rushed to the scene as runners and spectators raced away from the explosions. Their quick response led them to find a third bomb that, thankfully, did not ignite.
"There have been more ambulances and police vehicles around than I've ever seen in my life," Katie said. "We were told over an intercom at a restaurant to stay off the streets and avoid large crowds. People were sharing phone chargers and phones so everyone could contact their families."
Coppell resident and active runner Spareribs LaMothe also participated in the Boston Marathon for the tenth, and final, time today. The finish line explosion occurred after he had spotted his wife, while he was at about mile 25.5, leaving both him and his wife unharmed.
"I knew two runners in the marathon today," Coppell resident and continued member of the Pink Soles in Motion Michelle Hernandez said. "Luckily, I have been able to reach them through Facebook posts."
Previously working for DFW Runs and having participated in running and walking events with fellow teammates, Hernandez has developed close relations with many runners, including LaMothe.
A rumored third explosion at the John F. Kennedy Library has been determined to be an unrelated mechanical fire by Boston police. Still, safety and the prevention of any further damage continue to be a priority for people in the area.
"We are staying at a hotel about half a mile from the finish line," Katie said. "We have mostly stayed inside [for safety], except for walking to a nearby restaurant due to severe post marathon munchies."
With local officials and police officers working on immediate safety measures surrounding the area, the focus has turned to getting help for the 100+ people injured and the remaining people in the street. Athletes and Boston residents have been seen running straight to hospitals to give blood for those who are suffering from amputations and other injuries.
"I have a friend who lives five blocks away [from the finish line]," Hernandez said. "He's opened his home to those who need it today."
Though news of the event has struck fear in many people, Mr. Sandfort said he will not let this change his upcoming racing career.
"[These bombings] will not affect my future registrations," Mr. Sandfort said. "I would even run the Boston Marathon again. I don't think you should live your life in fear."
For those who are still waiting to hear from friends and family in Boston, cell phone service has been shut off to prevent further unknown bombs from being set off at a remote location. However, they might be able to be reached at (617) 625-4500, a hotline created for this reason.
"I am extremely thankful," Katie said. "It was 30 minutes after my dad finished. Had we not been able to find my dad as quickly as we did, or had he run a few minutes slower, we would have been right there."