CHS doubles teams proceed to regionals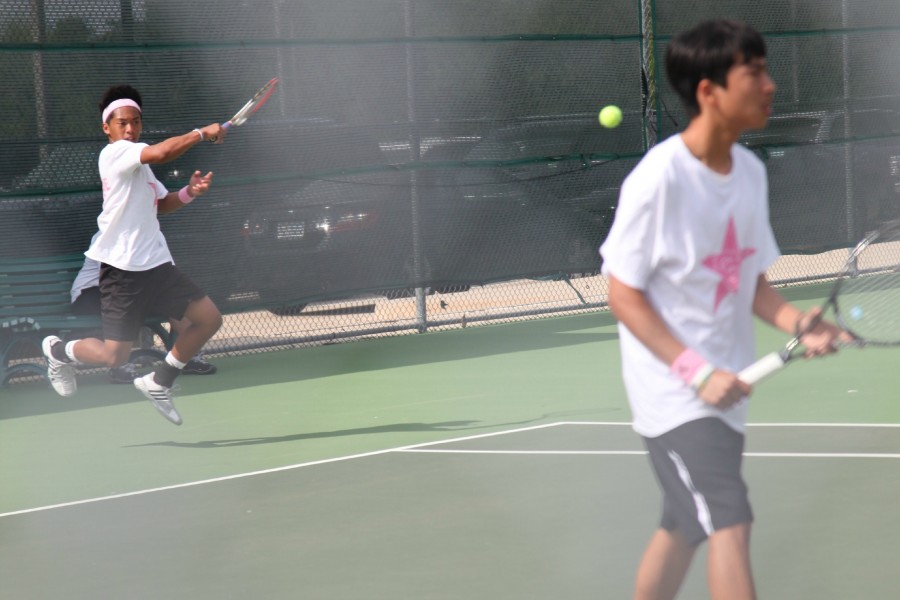 By Tina Huang
Staff Writer
"We are the best [tennis team] team CHS has ever had…ever," senior Josh Abaya said.
The team was a regional finalist, which is the furthest it has gotten in Coppell High School fall team tennis history. With such success, it was right to expect the best in the spring.
With high hopes heading into the spring season, the players are finally being recognized as the road to state officially begins. The District 5-5A tournament held Monday and Tuesday at the CHS tennis center proved to be a success.
Four Coppell High School varsity tennis players have advanced to the highly competitive regional competition this year. Three of the four are seniors playing their last year of high school tennis.
Seniors Abby White and Tyler Stayer are a mixed doubles pair who faced and defeated their Marcus opponents (6-4, 6-2) in the district finals this year.
Last year White and Stayer went to regionals as a mixed doubles team as well, so they have experience competing at the next level.
In singles play, they are successful in their high school tennis careers. Stayer has proceeded to the regional competition all four years. He went for singles freshman and sophomore year and mixed doubles with White last year. White was state alternate for freshman and sophomore year and headed to regionals last year. Even though they have not made it to state yet, Stayer has a good feeling about this year.
This season, their record is 29-1, only losing to the mixed doubles team who won state last year in Austin. They even beat out highly ranked Highland Park's mixed doubles team.
"[Abby and I] will probably be the number one or two seed at state because we won [the finals match]. I'm pretty sure we have a good chance of winning first or second so we can qualify for state," Stayer said.
White is thankful for such an opportunity to end her high school tennis on a high note. To her, the fact that CHS tennis is coming to a close has not yet registered, but she keeps her same enthusiasm as she had freshman year about three years first competing on varsity.
"I'm just really excited. That is pretty much the feeling I have. I'm excited to go to regionals, and I can't wait to do and do well. Hopefully we will get a good seed, but we will see when we get there. All [Stayer and I] can do is do our best, and whatever happens will happen," White said.
Sophomore Zixiao Li and senior Josh Abaya also successfully fended off district rival Flower Mound in the finals. They played a tough match against number one seed but were victorious in their 7-6(3), 7-5 finish. The fact that Abaya and Li lost to the Flower Mound team earlier in the season made the victory even sweeter. They worked hard and came back strong at the end of the season.
Abaya is not new to hard work; he has worked hard the past four years on the team and is grateful for such a great way to end the regular season.
"I was ranked around 13 on varsity my freshman year," Abaya said. "I was the worst doubles player. It is amazing to have come so far senior year to win first place in doubles in district to qualify for regionals is awesome."
Each of these players has been on varsity since their freshman year. For White, Stayer and Abaya, this is their final chance to make a statement and go out strong once and for all.
The tennis team leaves for the Class 5A Region l tournament in Lubbock on Sunday, where play takes place Monday and Tuesday.