Smashburger: Coppell's newest and best burger joint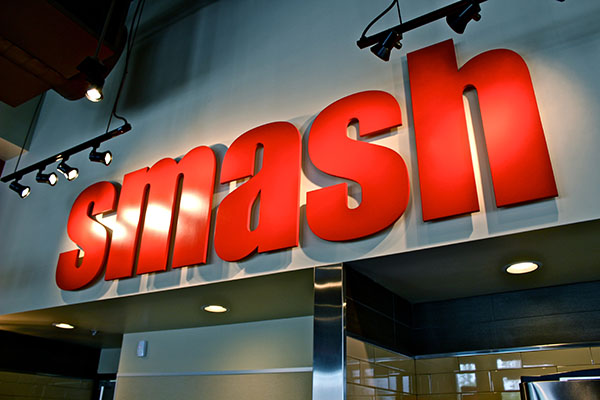 By Thomas Hair
Opinions Editor
There was a time, not long ago, when the golden arches of McDonald's defined the American burger industry. Fast, cheap and greasy – that was the only option. Within the last few years, however, we have witnessed the rapid boom of trendy "better burger" establishments providing a higher quality, albeit more expensive, hamburger alternative.
Coppell is a testament to this phenomenon – with In-N-Out, MOOYAH and Five Guys Burgers and Fries all opening stores nearby within the span of a couple years. Smashburger, which opened on Denton Tap in late March, is the latest "better burger" franchise to expand into Coppell territory.
I've eaten at plenty of "gourmet burger" restaurants like Smashburger. I knew I was going to get a good hamburger. I was looking for things that make Smashburger stand out from the growing crowd of competition. My high expectations were met. I hereby declare, burger buffs and food aficionados, that Smashburger is the best burger joint in Coppell. Here's why.
Location. Smashburger occupies a prime lot on Denton Tap Road in the heart of Coppell, unlike Five Guys in Lewisville and In-N-Out in the outskirts of Coppell. It is very easy to find and doesn't occupy the back of another restaurant's building (MOOYAH). Smashburger is also 100 percent wheelchair and handicap accessible.
Design and ambiance. The first thing I noticed when I opened the door was the impressive sleek and smooth interior design. There are plenty of seating options, with stools, tables, booths and outdoor tables available. All of the decor is very smooth and clean – to the eyes and to the touch. Whereas Five Guys has a rustic aesthetic, with wooden menu boards and sacks of peanuts lying around, Smashburger embraces the 21st century, utilizing massive video screens. One video screen rotates through mouth-watering photos of various menu items and special offers, while the two others display the extensive menu, which brings me to my next point.
Menu. In terms of the variety and mass appeal of their menu, Smashburger is way ahead of their "better burger" competitors. You can order one of their specialty burgers – like the Classic Smash or Jalapeno BBQ – or pick and choose your own infinite combinations of toppings. There are also four styles of buns and eleven side options, including Smashfries, fried pickles, chili and veggie fries. If you don't even like burgers or French fries, there is still something for you at Smashburger. They offer multiple chicken items, such as the Spicy Baja Chicken Sandwich, salads, hot dogs and veggie burgers. This extremely diverse and localized menu is miles ahead of competitors like Five Guys who only offer burgers and fries and nothing else.
Portions. Yes, a night with the family at Smashburger might be a bit pricier than bringing home Burger King, but you get much more for your dollar. The burgers are thick and hearty, and the pile of French fries on the side of the tray is deep enough to hide golf balls in. I ordered a $4 specialty Haagen Dazs Oreo Shake and was pleasantly surprised when the waitress brought out a one-foot-tall glass filled to the brim – in addition to a chrome pitcher with even more milkshake because they made more than they could fit into my glass. Talk about awesome portion sizes!
Flavor. Smashburger restaurants use a unique "smashing" method to cook their patties and Smashfries. I'm still not completely sure how smashing a patty makes it taste better, but it definitely seems to work! I could literally taste the delicate blend of spices and juicy flavors in the meat. The brown artisan buns are delightful as well, cut in a unique and memorable shape. The Smashfries are thin, crispy and lightly salted – irresistible to munch on by the handful!
I was very pleased with my experience at Coppell's new Smashburger. Everything was clean, the service was impeccable and the food was even better.
Smashburger has stated that its goal is to be "every city's favorite place for burgers". With its prime location in the heart of Coppell on Denton Tap, flavorful food and large portions, Smashburger is poised to become Coppell's go-to burger joint.