Frisco Tournament of Champions baseball preview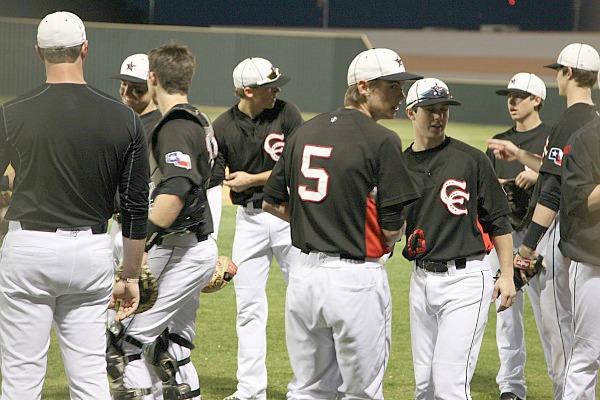 March 7, 2013
Filed under Sports
By Alex Nicoll
Sports Writer
After an adequate performance in the Corpus tournament last weekend where Coppell went 2-1-1 after a one run loss to Moody, the Cowboys is prepared to make a statement in the Frisco Tournament of Champions this weekend.
In the third tournament the Cowboys have played so far this year, they will face the likes of the powerhouse Allen, Haltom, and Frisco Wakeland.
Thursday at 7:00 p.m. at Frisco Liberty high school, Coppell will play against Allen. The Eagles are coming into the game rolling on a two-game win streak and a 6-2 record overall.
The Cowboys will have to contend with the big bat of junior outfielder Cole Carter. Carter leads the Eagles with three homeruns and .667 batting average across their eight games. Sophomore shortstop/second base Kyler Murray will also be on the watch list for Coppell as he leads the team in steals with 6. Murray is also batting .588 this season.
Coppell should be strong against the pitching of the Eagles. They have scored in double-digits four times this season alone. Allen does have two senior pitchers in Cory Schiebner and Pierce Edwards that are undefeated and haven't given up a run yet.
Friday at 1:00 p.m. at Frisco Wakeland High School, the varsity plays Haltom. The Buffalos hope to turn over their poor performances this season and build on their 4-6 record.
Haltom brings experience to the diamond with its 15 returning seniors, but the Cowboys should have a strong chance of victory. The Buffalos have struggled with run support only posting a double-digit victory in its opener against Coriscana and with Coppell's aces, like senior Jake Elliott who posted an 11 strikeout effort with zero runs allowed against Moody, they should be able to hold them to just a few runs.
On the same day Coppell takes on Frisco Wakeland, a host team, at 7:00 p.m. Wakeland is one of the biggest challenges for the Cowboys in the tournament. They are 7-4-1 on the season.
One bright for the Cowboys is the fact that Wakeland has been shut-out twice already, which will be music to Coppell senior Austin Gardner's ear. Gardner has posted one of the only shut-outs for the Cowboys this year in a 6-0 win against Keller Central.
The Wolverines have big playmakers but lack power. The team has only on homerun to its name and junior catcher Seth Mullis is the only player with at least 10 RBIs and a batting average above .333. Wakeland has also struggled with pitching. Only one pitcher, senior Mathew Deacon, has yet to give up a run.
After the pool play, Coppell will face a t-be-determined team based on their performance on Saturday at a to-be-announced time and venue.

Hang on for a minute...we're trying to find some more stories you might like.