Cowboys take care of business, move on to DeSoto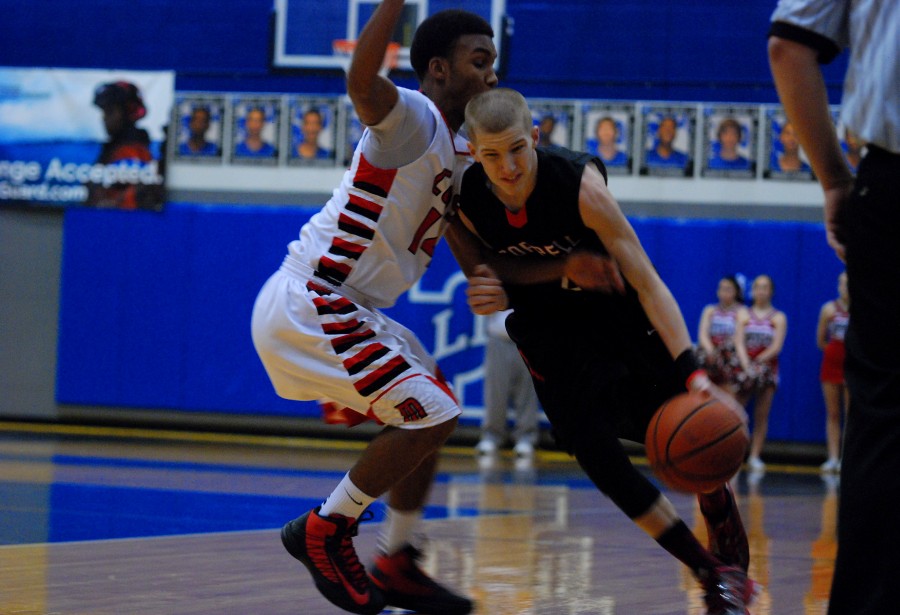 By John Loop
Sports Writer
The Coppell Cowboys and the DeSoto Eagles are on a collision course once more.
These two programs are slated to meet after the Cowboys took care of business on Tuesday night against the Irving MacArthur Cardinals with the score of 52-38.
Junior guard Landon Goesling was the high man, leading all scorers with 15 points and 9 assists. Junior guard Cody Carver also chipped in 11.
The Cardinals set the tone early with three quick points from sophomore guard Donny Belcher, but Coppell battled right back to equalize the score.
Carver stayed aggressive on both ends of the floor, going to the rack and drawing contact while also causing mayhem on the defensive end.
"Cody got so many touches that turned into points for us on that end," Coppell head coach Kit Pehl said.
Trailing by just one point at the half, 24-23, Pehl told his guys that they had the Cardinals exactly where they wanted them.
"I told them, 'Hey, let's just take care of us,'" Pehl said. " 'This game is not about them, it is about us', and I feel like that is what we did in the second half."
Goesling was the catalyst on the offensive end. The junior paced the Cowboys with solid execution and composure form the point guard position.
"It is always fun [leading the rally]," Goesling said. "I try to get my teammates going, I got a couple buckets, trying to get the fans into it, so it was good for us."
The deficit for either team had not yet slipped past one point when Goesling got a floater in the lane to fall to make it 31-28 late in the third quarter. From there, the junior tandem took over the game.
Senior guard Tavarius Shine was the only Cardinal to score in double figures (11 points), as was expected. Shine came into this game averaging over 20 points over his last five, indicating that the Coppell press and trap defensive scheme worked to perfection.
"We had planned on pressing quite a bit and trapping quite a bit," Pehl said. "We did not get quite as many opportunities in the first half as I would have liked, and every time we did, it seemed like they (MacArthur) got a bounce. Really, we touched a lot of balls and turned defense into offense, and that was really big for us."
With a huge matchup against Matt Jones and the state-ranked DeSoto Eagles looming on Friday, Goesling can appreciate the big game atmosphere.
"I like the challenge," Goesling said. "I love the challenge, you know. To be the best, you have to beat the best. "