Basketball notebook: Tension builds as playoffs approach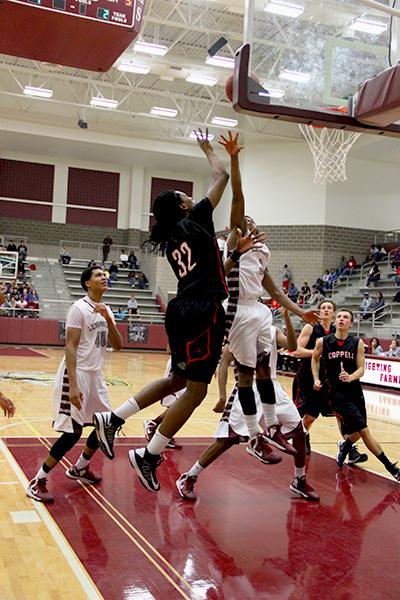 By John Loop
Sports Writer
The final game is drawing near, but the season may be just beginning for the Coppell Cowboys basketball team.
As the team preps for its final game of the regular season against the Flower Mound Jaguars, the District 5-5A standings have leaned in favor of the Cowboys.
According to Cowboys assistant coach Lance Boxell, Coppell will end up with the third seed at best, if everything plays like it should (FM Marcus beats Lewisville). Lewisville is currently tied with the Cowboys for third in district. Both programs have four wins and five losses in district play.
If worse comes to worse, and Coppell comes out on the losing end, a four way tie would ensue for third place, and the Cowboys would be playing a "play-in" game on Friday to settle the dispute.
A win against the Farmers would also, after a 20-point defeat at the hands of the Hebron Hawks, who are ranked third overall in the state of Texas, raise the spirits of Cowboy players after the 56-36 loss ended a three-game winning streak.
In the last matchup between the Cowboys and Jaguars, Flower Mound rode the hot perimeter shooting of Jaguar seniors Justin Gammil and Ryan Reibly to a 53-39 victory.
Even better for the Cowboys is the fact that their away record (10-8) has 19 percentage points on the Coppell home record (5-9).
Cowboys JV team ends season with one-point OT win
Sophomore guard Collin Wallace and junior post Zach Siebenmann each chipped in eight points in a 51-50 victory over the Hebron Hawks in OT.
As a result, the start of the varsity game radio broadcast on texprepsbasketball.com was delayed by about 15 minutes, causing the varsity game to start at around 8 p.m.
The team finished the season with a 23-8 record, and a 7-2 record in 5-5A.
Basketball Banquet a place for dishing out awards and recognition
The annual Cowboys basketball banquet will be held on Sunday, April 14, at the NYLO Hotel in Irving. Awards and accolades will be handed out to all five teams.