Cowgirls soccer team defeats Colleyville Heritage on home turf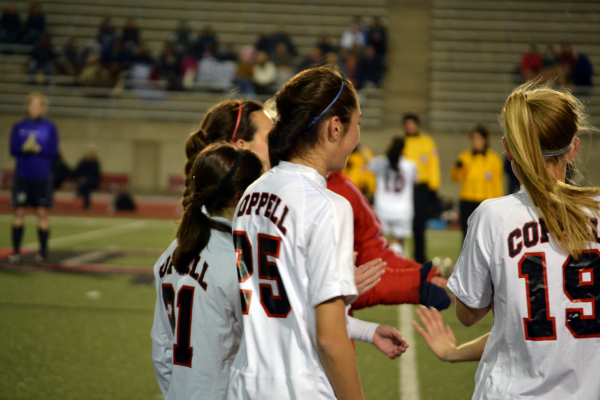 By Allison Arnold
Sports Writer
On Tuesday night, the Coppell Cowgirls soccer team defeated Colleyville Heritage with a score of 1-0.
Coming on the field tonight, the Cowgirls knew they could expect a good game from Colleyville and there was not much room for mistakes or bad plays.
With three key players not able to play, the other girls on the team had to step up and fill their shoes. Sophomore Cami Studebaker was on the bench supporting instead of playing due to a concussion, joined by fellow sophomore teammates Sarah King and Tara Vishnesky who were out because of the flu that has been circling around Coppell High School.
When the game began, both teams were relentless to gain possession of the ball. The Cowgirls managed to stay in control making smart passes and moving the ball down the field toward the goal. Keeping the ball at the other teams' end of the field for a while, the Cowgirls were not able to score until the last six minutes of the game.
With an impressive assist from junior forward/midfielder Reagan Meyer, senior midfielder Paige Jacobs was able to put  the ball into the goal making the score 1-0 with the Cowgirls in the lead.
Throughout the second half, the Cowgirls continued to stay strong on defense, keeping the ball off of their side of the midfield line. The Cowgirl offensive attack had several more attempts at a score, but could not get past Colleyville's defense. The game ended with a score of 1-0 giving the Cowgirls yet another win in their pre-season.

Hang on for a minute...we're trying to find some more stories you might like.