Gangster Squad gets the job done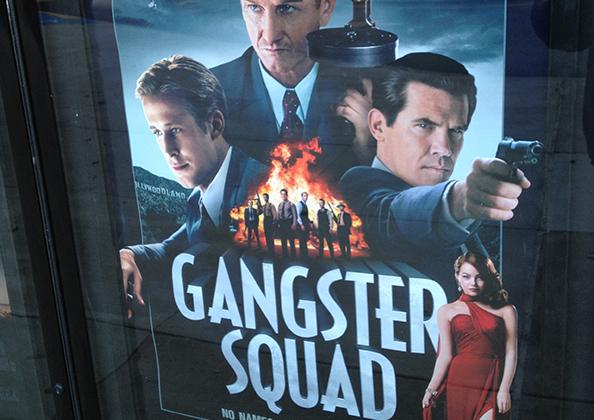 By Will Thomas
Staff Writer
Director Ruben Fleischer gives us a gritty mafia movie for his third feature film. Gangster Squad revolves around six Los Angeles police officers in 1949 who put aside their badges and fight the mob, led by Mickey Cohen (Sean Penn), taking over their city.
World War II is over, but organized crime is on the rise in urban America. New York and Chicago have fallen victim to Cohen's corruption, and Los Angeles is next on his list. Because the city's highest officials have already been bribed or threatened, Chief Parker of the LAPD (Nick Nolte) appoints Sergeant John O'Mara (Josh Brolin) to recruit the members of a small "off the books" police force to go to war with Cohen's mob.
Brolin's character is a little deceiving at first. He looks like the veteran cop who sticks by the rules, but he is actually the renegade. The elder O'Mara will do whatever it takes, and he executes the missions like he has a death wish. It might be his age or his serious tone, but something throws off how the audience sees the character initially. Regardless of his character's ethics, Brolin never slips up in his acting.
Ryan Gosling portrays Sergeant Jerry Wooters; a drunken detective who initially gives up on the idea of saving the city from corruption but changes his mind after a drive-by shooting takes place. Wooters is also having an affair with Cohen's etiquette teacher and partner, Grace Faraday (Emma Stone). Gosling nails his performance, showing emotional depth without saying too much. Unlike with Brolin's character, the character of the much younger Gosling has to follow rules. The looks of O'Mara and Wooters simply deceive the audience.
Penn captures Cohen's character with ease. Penn does have a lot of rage in this movie and towards the end it feels like too much. Cohen starts out by being incredibly menacing and relentless and ends the movie raging at everyone like a cartoon character. When Cohen starts breaking things in his house for minor dilemma, it becomes clear Penn should dial it back.
What the movie lacks in emotion and drama it makes up for in its spectacular action sequences.The cinematography is enhanced every time the squad brings out the guns. The action sequences have a variety of different shots, so no one watches a gun fight the same way twice.
There is, however, an excess of violence. The opening scene is basically a brutal execution involving two cars going opposite directions, both chained to a man's torso and legs. That is the worst of it, and the rest of the film is easier to watch.
The plot is pretty straightforward. The squad attacks drug shipments, casinos and clubs that belong to Cohen and nothing else really needs to happen. There are no subplots other than Faraday's affair with Wooters and the anxiety of O'Mara's pregnant wife (Mireille Enos). The characters are slightly underdeveloped, and the action sequences go on a little too long. The movie is very well paced. Nothing drags on long enough to take a viewer out of the movie.
Gangster Squad did a great job of recreating 1949 Los Angeles by displaying all types of post-war American culture. The music, the clubs and the way people dress and talk are all shown thoroughly. But this is not a movie to go to for historical purposes. It is inspired by a true story but there is not much to learn from the movie what cannot be learned from the trailer.
Overall, Gangster Squad has great acting, a decent script and amazing action scenes. The filmmakers clearly do not have the Oscars in mind with this movie. It is all about entertainment. It is not an enigmatic plot nor is it humorous, but it is not completely mindless action either.
Rating: B