Holiday season brings smiles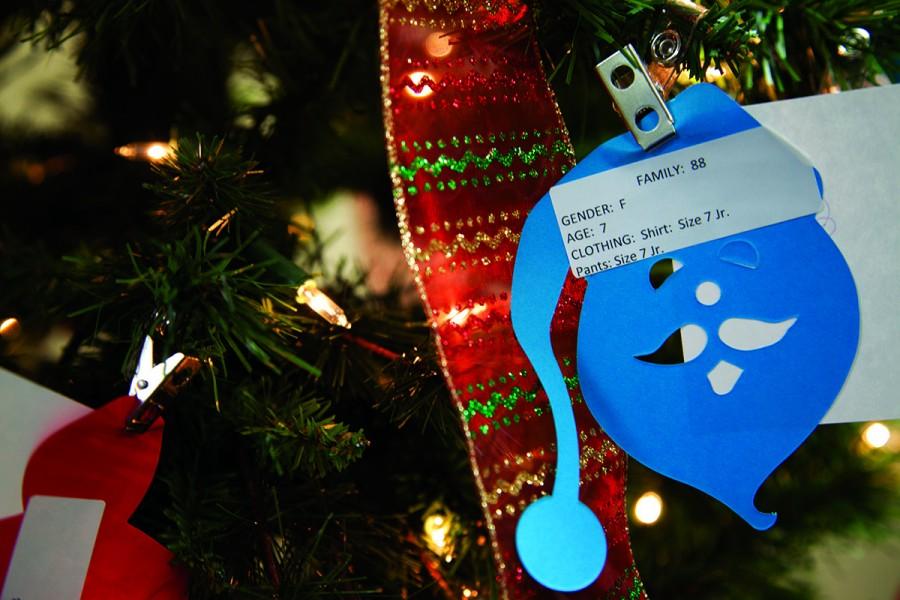 By Corrina Taylor
Staff Writer
Fluorescent white lights twist and interlace into the tree's branches; festive red and gold ribbons dance down the side of the tree. Lightweight and delicate red and green paper ornaments dangle from the limbs, each one symbolizing a child in need of a smile.
There are 347 tags on the tree this year, 347 children with families unable to afford a present this year. Not many people expect residents of Coppell to have financial difficulties, but the truth is there are many people unable to provide gifts for their children every year.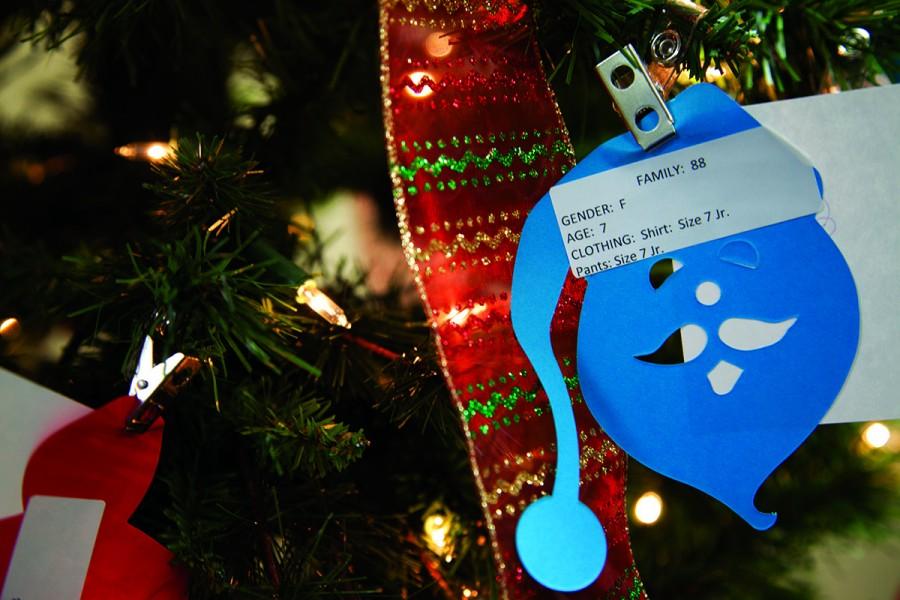 Every year the administrative support assistant Scarlett Hovland sets up the tree and determines the families represented by a paper ornament on the tree. The families listed on the tags are found through the schools and are going through some tough times.
Each tag consists of the child's age, gender and their clothing size. The person who picks up a tag is responsible for purchasing the child an item of clothing and a gift of their choice so every child will have clothing and a present on Christmas morning.
This year the tags were picked up remarkably fast, leaving only a couple of ornaments left on the tree after Thanksgiving. This was partially due to the ability to have the ornaments emailed to each individual, that way they would not have to drop by the Coppell Town Center and could just receive the tag through their email.
Each present should be wrapped with the tag attached and dropped off to the Town Center by Dec. 10, and on Dec. 18 the employees will deliver the presents to the families.
"Any employee in any department can volunteer to deliver," Hovland said. "A lot of our gifts are delivered on the fire trucks, which really excites the kids, because it's almost like Santa coming on his sleigh to see a fire truck pull up in their neighborhood."
Make A Child Smile has attracted the attention of different groups and organizations in Coppell such as the Women's Club, which has taken on this program as an annual charity event coordinated by the service chair Lynn Miller.
The Woman's Club, founded in 1973, is a nonprofit organization that dedicates its time to fundraisers such as Make A Child Smile. This year they took on 50 ornaments within the group of women. This association is a proud supporter of volunteer work, and it shows through their community services.
"We greet the troops at the airport, we do a fundraiser for the food pantry at the high school, we collect for CCA, we have adopted a strip on sandy lake [adopt a location] and we do things for the USO," Miller said. "We try to do things within Coppell, city wide and nationwide so that we are hitting all aspects."
Some other volunteers include City Council member Billy Faught who has taken part of this charity event for at least ten years. Not only does Faught participate in the delivery, but he also is the liaison for the local Coppell company Robertson Pools. This year Faught brought 36 ornaments to the company for fellow employees to partake in the charity event of the season. As a City Council member, Faught is actively involved in the community and is a big believer in giving back to the community through programs such as Make A Child Smile.
"Anytime you involve yourself in a service type activity you get more than you give through the appreciation of those you are helping," Faught said. "The realization of your blessings and the feeling that you have helped somebody or provided something, whether it is material goods or service or it's just a hug and a hello, you provided them with something they might not of had if you hadn't crossed paths with them."
Faught has personally witnessed the gratification of helping others on a particular delivery when he was presenting a donated bike to a family. A woman answered the door and found a bike just for her son. She was filled with emotion and tears cascaded down her face.
To her it was a Christmas miracle; it was the exact same bike her son had so desperately wanted that she could not afford.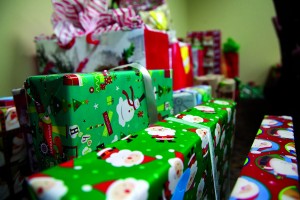 Financial difficulty can hit anyone and is especially hard during the holiday season. All the families on the tree are in Coppell and are in need of some Christmas spirit; it is completely anonymous
Anyone can face economic hardship; it could be an acquaintance, employee at a shop, neighbor or even a close friend. This holiday season could be the one to change a child's life when they wake up and rush to the tree to find a present waiting for them. A present gifted from a generous citizen of Coppell.
"It makes you feel a profound deep satisfaction that you've touched someone's life," Miller said. "You can't buy it. You can only do it by acting upon it. I'm a huge believer in kindness and passing it along as a way of saying thank you for all the kind things that people have done in your own life who you might not get to thank."