Cowboys ground Eagles, 61-41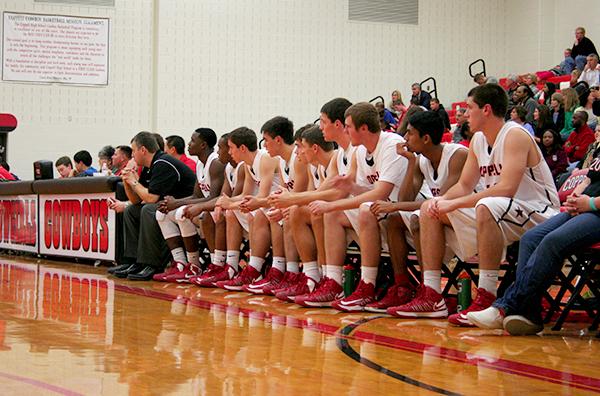 By John Loop
Sports Writer
The Eagles had their wings clipped by the Coppell Cowboys (4-4) basketball team, as they came away with a victory over Allen High School with the score of 61-41.
The Eagles (0-4) could not find their shot. Coppell's offense, led by senior guard Calvin Michaelis' 12 points on 4-of-4 from beyond the three point line, overwhelmed the Allen defense continuously, jumping out to a 20-4 first quarter lead.
Senior post Patrick Barden supported with eight points, while junior post Simi Socks and junior guard Brandon Watson each chipped in seven.
"We expected a battle," head coach Kit Pehl said. "Allen is well-coached and they are a good team. We showed the ball really well, and we had a ridiculously, extraordinary defensive effort this evening."
The lead continued to grow, and Pehl opted to go to his bench very early.
Michaelis came off the bench and hit back-to-back-to-back treys on three consecutive Coppell possessions. The Cowboys remained perfect from long range in the first quarter, going 5-for-5.
"We just wanted to come out with a lot of energy," Michaelis said. "It was a big emphasis in the locker room, just to get excited for this game. We came out hot; I came out shooting the three. After that first quarter, we just wanted to keep going strong."
Also contributing valuable minutes were junior guard Clay Kemp (4 points) and senior post Everett Schau (defensive presence with two blocks).
The bench, as witnessed throughout the game, provided the spark when the starting lineup tired.
And because of the big lead, Pehl was not hesitant to dig deep into his bench.
"I think we are a deep team," Pehl said. "The difference between my ninth or tenth guy is not tremendously different than my fifth or sixth. I think we have got the deepest basketball team I have ever coached."
The lead at halftime swelled to 20 points, at 34-14.
The Cowboys, to start the third quarter, continued to share the ball beautifully, with junior guard Landon Goesling leading the assist category with seven, to go along with five points.
"That's just always been my role, to get my teammates involved," Goesling said. "We got off to a hot start, and never looked back. Hopefully we can build on this win and keep going."
The Cowboys stifled Allen's senior guard Cameron Epps, who was held to 10 points, which was his season average coming in to tonight's matchup.
The Cowboys now prepare to face an undefeated Duncanville team (9-0) at Duncanville on Tuesday, Dec. 4.