Cowgirls look to end season with repeat state title
By Sammy Robben
Sports Editor
No team had ever swept a match in the UIL state tournament. Tonight, the Coppell Cowgirls were the first.
Tonight, the Cowgirls went up against the Clear Lake Lady Falcons in their state semifinals match. Despite the Falcons reputation as a comeback team, the Cowgirls defeated them 3-0 with impressive set scores of 25-17, 25-5, 25-14. This three set win means that the Cowgirls have swept their ninth team in a row and have not given up a set in playoffs.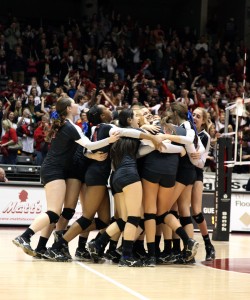 "We had to play hard the whole time because we knew they were a five game team, and they could comeback at anytime," junior middle blocker Mary-Kate Marshall said. "We also knew that at the state tournament no one has swept a match, except us right now. We knew that they could come back and we had a goal to get to 25 and we just kept driving towards it"
As the Coppell student section cheered, "it's too easy", the Cowgirls proved it. Known as an offensive team for their strong hitting, the Cowgirls stepped up their defense as well tonight with consistent blocking and passing. Senior right side Erica Bohannon, middle blocker Chiaka Ogbogu and outside hitter Cassidy Pickrell led the offense, while Marhsall led the team in blocks.
"We hit the ball, and we were really aggressive at the net," coach Julie Green said. "[Clear Lake] is a very offensive team, and capable of making really big offensives plays. We blocked well and if we did not block it we got a lot of good touches so we slowed it down for our defense. That was probably the biggest asset to our game. We typically hit the ball well, but we don't necessarily always block that aggressive at the net. I thought our defense was phenomenal."
Green credits more than just the Cowgirls physical capabilities for their success on the court.
"They are super smart kids, which make the scouting report actually valuable because they take that information and they really study it," Green said. "They know who those kids are and they know what their tendencies are and I think that is a big advantage when we step on the court because our kids are so court smart."
This win will send the Cowgirls into the 5A state finals tomorrow night where they will play the New Braunfels Lady Unicorns. The Cowgirls are putting tonight's game behind them as they go into the state finals, and ill follow their normal routine of scouting reports and fill as the strive to bring home another state title.
"They just want another one," Green said. "They want another state championship, and they are fully aware of what is on the line. They know nothing about New Braunfels; they know nothing about the game ahead of us. We are going to go in fresh and talk to them about scouting report, we have film in the morning. They're going to step out and they are going to play."
This is the Cowgirls second trip to the state finals, as they were 2011 5A state champions. For many of the returning team members remembering how they felt just one year ago is pushing them to do it again.
"It is just a really great experience to know that we can out on top for my senior year," Bohannon said. "I mean its great to win it as a junior but winning it as a senior is just a whole new level because it is your last chance and you've worked so hard for four year. It all just pays off."
The Cowgirls are ready and confident to bring home another state title to CHS.
"What we talked about is it is ours if we want it, and everything else is just an obstacle to get there," Ogbogu said.
The Cowgirls will play in the state finals at 7:00 at the Curtis Culwell Center in Garland and will face the New Braunfels Lady Unicorns. For information from tomorrows match follow @SidekickSports or watch coppellstudentmedia.com for updates.