Just one of the guys: NFL writer inspires young journalists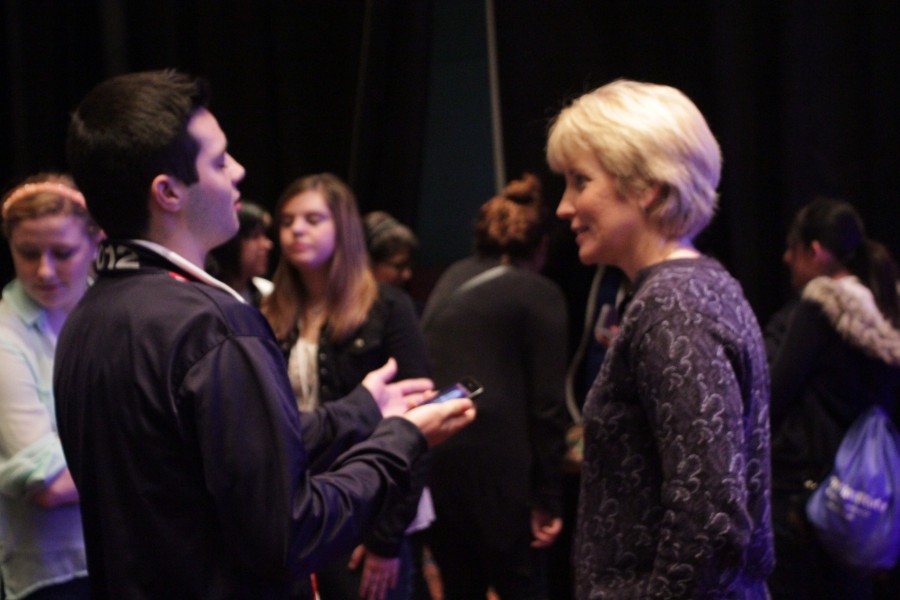 By John Loop
Sports Writer
SAN ANTONIO – Charean Williams knows what it is like to be one of a few females employed in a male-dominated work force.
But Williams, a veteran NFL beat writer for 19 years, assures it does not make her job any less enjoyable.
On Friday, she addressed high school journalists from across the country who converged at the JEA/NSPA Fall National High School Journalism Convention.
"There are five or six of us, who as female beat writers, cover the NFL," Williams said in her keynote speech on Friday afternoon at the Henry B. Gonzalez Convention Center. "It has its advantages and its disadvantages sometimes."
Williams, currently grinding out a 13-year career at the Fort Worth Star-Telegram, got her start as a young Dallas Cowboys fan, particularly during the days of legendary quarterback Roger Staubach.
"I remember asking my second grade teacher in class one day 'How far is it to Dallas?'" Williams said. "She said, 'probably 300 miles. Why are you asking?' and I said 'because I am going to marry Roger Staubach."
Williams bounced around after graduating from Texas A&M in 1983, working at many small circulation newspapers, including the Orlando Sentinel, where she got her first football beat assignment, covering the Tampa Bay Buccaneers.
Over the years, she developed great relationships with the players, but none were friendlier than defensive tackle Warren Sapp.
"Warren and I got along really well, except for this one time," Williams said.
Sapp started to shut out the local Tampa media, and only associated with the big time national media. Williams, who needed to talk to Sapp as a beat writer, assumed she could just waltz into the Tampa Bay locker room after practice and get Sapp to open up.
She was wrong.
"Austin Murphy (Sports Illustrated) was talking to him at his locker," Williams said. "I asked him, 'Hey Warren, do you have a minute to talk?'. When he turned around, I was met with a blank stare on his face. He said nothing."
Though her career is filled with tough experiences, be it interviews or tackling an in-depth story, none of them have hit closer to home than Williams' coverage of the tragic death of Nancy Bennett, the former wife of current Baylor defensive coordinator Phil Bennett, an assistant at Kansas State University at the time.
"Phil only talked to two people," Williams said. "A guy from Sports Illustrated, and me. He talked to me because he wanted it printed in his wife's hometown (Alvarado, south of Fort Worth) paper, which also happens to be my husband's hometown."
Williams says this sit down with Bennett was one of the most defining moments of her long journalism career.
But there have been plenty of happy moments for Williams to hang her hat on, including coverage of six Olympic games and 18 Super Bowls, both pinnacles of the sports landscape.
"Those are really cool events. The Olympics are the greatest you can ever cover. I got to live in Beijing for four weeks, so I thought it was really cool to live in China for that amount of time," Williams said.
Though she has been a Cowboys fan for life, Williams has learned to put her passion for America's Team aside and focus on her job from a media perspective.
"It has been different and its what I always wanted to do, so it's a pretty cool experience, but it is not the same as watching on TV, because you are getting to go in the locker room, on the sideline, in the press box, and actually interacting with the players," Williams said.